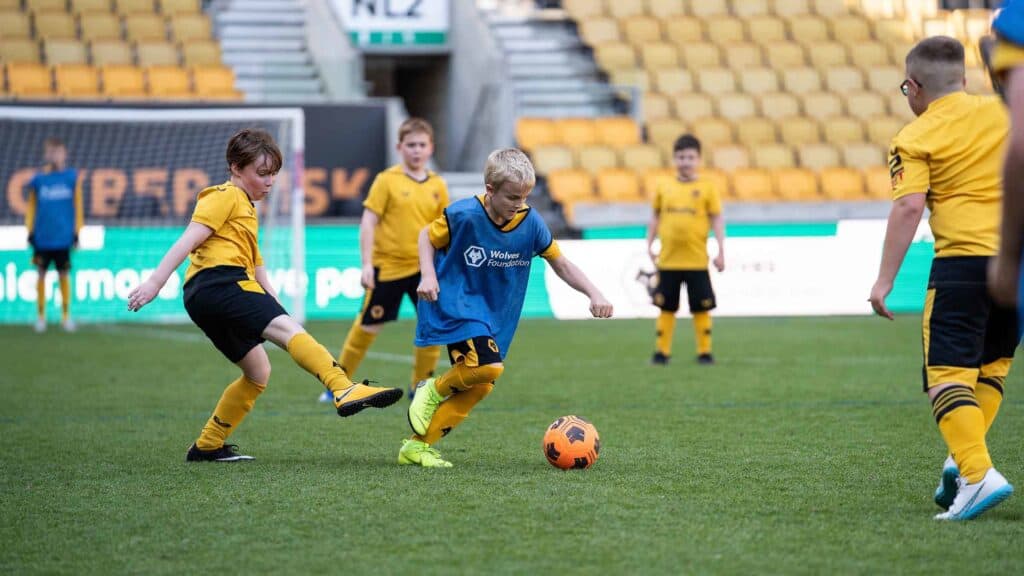 From eight people attending the very first training session, to now approaching 80 signed up across three age groups.
From the very first game, an Under-16 friendly against Kewford Eagles ten years ago today, to a regular programme of league and cup fixtures in the Staffordshire Ability Counts League, including at the home of English football at St George's Park.
From the first annual presentation nights featuring 20 to 30 guests in Molineux's International Suite, to over 200 packing into the Sir Jack Hayward Suite for Saturday's most recent event.
The last decade has proved quite a journey for Wolves Disability FC, and it's not always been plain sailing.
But it's one which has – in keeping with true Wolves Foundation aspirations – created so many opportunities and changed the lives of hundreds of people of all ages and abilities who have been able to enjoy a world of football and competition which they would otherwise never have had access to.
So how, and when, did it all begin?
Approximately 11 years ago, under the name Sporting Chances, the idea was born to give people of all abilities access to football which they might otherwise not be able to enjoy.
A constant throughout the process has been Gavin Jones, inclusion lead with the Foundation who now oversees the Disability FC set-up. 
"I remember Laura Nicholls, who was my manager at Wolves Community Trust at the time, tasking me with the challenge of setting up a Pan-Disability team," recalls Jones, who has a visual impairment and has also played for the team.
"We set up training sessions, on a Sunday morning at the Arena at Aldersley, and started getting a few participants coming along.
"Within a year, we had enough to set up a team, although I remember thinking I wasn't too sure how many we'd get turning up for that first game!
"Here we are now, ten years on from that first game, rebranded as Wolves Disability FC with eight teams (three adults, three Under-16s and two Under 12s), around 80 regular participants, and a presentation evening on Saturday with over 200 guests.
"So, from that very first game, not really knowing what to hope or expect, to see what it is now – when I stood there on Saturday night and looked out at all the guests, it was all a bit emotional to be fair.
"If you had told me from that starting point where we would be now, I would never have believed it, I would probably have just laughed at you to be honest."
***
At the age of 14, Mark Bromley just wanted to play football.
Attending Westcroft School as a SEND student, he didn't feel that being involved in mainstream football was going to work.
Then he caught sight of a leaflet which had been brought into school, by what was then Wolves Community Trust.
It was promoting the new Sporting Chances initiative, offering Sunday training sessions on a pan-disability basis, for people with a range of health conditions or impairments to come together and play football.
Bromley turned up to that training session, he played in that first friendly, and the rest is history.
History in the sense that not only did he play for the team at Under-16 level, before progressing to adult football, but, having initially volunteered with the Foundation to then becoming an apprentice, a casual member of staff, and now, for the last three-and-a-half years, permanently employed on a full-time basis as a community & cohesion coach.
And so, whilst still involved as a player with the adult disability team, as he has been throughout the last decade, Bromley also coaches the Under-16s and helps out with the Under-12s, as well as working on a range of other projects for the Foundation.
"I can still remember that friendly with Kewford, as it was my first ever game of football," Bromley recalls.
"It was new, and it was exciting, and we won 7-4 and I scored four goals!"
What was just as exciting was then playing in a league via the Birmingham FA involving other Midlands clubs, and a cup competition, which Bromley particularly remembers fondly as they won it in their first season.  Which, of course, has nothing to do with the fact that it was West Bromwich Albion that they beat in the final, and that Bromley is a huge Wolves fan who has had a Season Ticket from a very young age.  
The job itself, working for Wolves Foundation, is a 'dream come true' for Bromley.  The opportunity to be able to continue to play and coach the Disability team, and help those young players follow in the very same footsteps of his own journey, even more so.
"I feel very lucky to do what I do, to be able to still enjoy playing but also helping pass on the experiences I have had to young players now doing the same," he confirms.
"It is actually really special, and I am very proud of what I do.
"I always want to try and improve and develop the players as people, as well as players, and the feedback we receive from those for whom Wolves Disability has become part of their lives, is incredible.
"I am really grateful to have had these opportunities, and hopefully I can be a bit of a role model given where I have come from and what I am doing now."
Bromley certainly is considered as a role model. At Saturday's end-of-season presentation night, he has given a special award of recognition to mark his contribution to Disability Football at Wolves over the last ten years.
There was barely a dry eye in the house.
"'Brommers' is a prime example of the sort of impact that Wolves Disability FC can have," says Jones.
Nicholls, now Wolves Academy manager for operations, said everyone is extremely proud of Bromley's outstanding impact.
"I remember how honoured Mark was to be representing Wolves in that first game, and that friendly match will always be one of my favourite memories," she recalled. "They were in a mix match of kit, but they didn't care, and stood proud and played their hearts out for the team, led by Mark.
"Fast forward ten years, and he has turned into a role model, inspiring the next generation of players and living and breathing the club values – we are all so proud of him."
The man himself was moved to tears. 
"Words could not describe my emotions, but it was a very proud moment," he acknowledges.
The trophy now sits proudly on his desk.
***
Mark Bromley is one of just two players involved in that first friendly against Kewford still playing for Wolves Disability FC today.
The other is Thomas Machin.
Another former pupil of Westcroft School, Machin has a multi-complex genetical condition called Prader-Willi syndrome.
It is a condition which causes a wide range of physical symptoms, learning difficulties and behavioural challenges.
But he certainly doesn't let that define him. Not a chance.
"Thomas absolutely loves Wolves, Wolves is his dream," explains Mum Julie. "He has good days and bad days but his love of Wolves never changes.
"He knows all the players – and they now know him – and he talks about Wolves all day long.
"Adama Traore is his favourite and he met him at a visit recently and he just couldn't wait to see him and ask him some questions…a lot of questions!"
Machin always had that powerful love of football growing up, but getting involved in mainstream football was sadly never going to be an option.
"Because Thomas was different to the other children, he couldn't play football and join in when they went and played over the park," adds Julie. "He was so desperate to play football but I had to say I just wasn't sure how that was going to happen.
"Then we found Sporting Chances, and he absolutely loved it right from the start.
"Going to training on a Wednesday night is one of the highlights of his week, and he'll want to go every single week, even if he's not well!
"The way the Foundation run the teams is just brilliant, they do so much great work.
"All the staff are excellent as well, in particular Gavin – Thomas thinks the world of him and I think Gavin thinks the world of Thomas as well."
The thoughts of Julie clearly illustrate just how important Wolves Disability is not just for the players out there on the pitch, but for the parents as well.
"We are all there to support each other, whether that's the lads or the parents, and it's one big happy family," she explains. "I have good days and bad days, but I know I'm going to football and am having a bad day, there will be people I can chat to.
"As parents, we can talk to each other and share experiences, and I come out of there feeling like I have been de-stressed because we have shared our problems. 
"We have a chat and we have a laugh and it makes such a difference – it's uplifting.
"Wolves Disability is about far more than just the football."
***
In March of the 2018/19 season, Wolves beat Cardiff 2-0 at Molineux thanks to goals from Diogo Jota and Raul Jimenez.
But it was the events during half time that probably left as much of an impact with the 31,309 spectators that were present.
For the first time, the Wolves Disability adult team took on their Cardiff counterparts on the hallowed Molineux turf, and both sets of fans absolutely loved it. 
The half time game has been repeated three times since, against Aston Villa and Chelsea at Under-16 level, and Norwich with the adults.
Amongst the string of trophies which the various teams have picked up in recent seasons, those games continue to provide major highlights from the decade-long Wolves Disability history.
"Those moments on the pitch have always been special, seeing thousands of fans staying in their seats and getting behind the teams," says Jones. "Now we have so many fans knowing about us and hoping it is going to happen every year.
"When I see people out and about, they are always asking if they are going to see the lads playing again which is brilliant.
"That Cardiff game was a real catalyst for Wolves Disability, it generated so much interest."
Watching in the stands for that game against Cardiff was lifelong Wolves supporter Darren James, who has been a fan since his Dad took him to the 1988 Sherpa Van Trophy win against Burnley at Wembley.
Born with an abnormality to my right leg, James wears an artificial limb, but he has never let that quench his desire for sport, including the likes of cycling, tennis, basketball and jogging.
Despite his love of football, he had never been able to be part of a team.  Until he saw that Cardiff game playing out on the pitch in front of him.
He contacted Jones, became part of the adult squad, and has gone on to become captain and another role model and inspiration.
"Being part of the Foundation has had a massive impact on my outlook towards my disability," he says. "Being part of this community has helped me accept who I am and excel as a person.
"Believe it or not, before being part of the team I never really wore shorts – I just wanted to kind of hide my leg and be treated the same as everyone else.
"Playing for this team has given me the confidence to wear shorts all the time and embrace who I am.
"And this confidence comes from everyone around this beautiful club, from the fans, staff, players and Mums and Dads to their kids.
"It now feels like I was always supposed to do this and if I can lead by example, then god damn it, that's what I'm going to do!"
On top of that, as if demonstrating the club's 'One Pack' mentality, James carried out a charity bike ride two years ago when cycling 300 miles in a month to raise over 1,000 for the Foundation's Feed Our Pack campaign.
***
Ten years of Wolves Disability FC offers a chance to look back and reflect, and think about how many people have benefitted from the club over the last decade.
The chance to play football, the chance to build friendships, the chance to enjoy competition, and the chance to have fun.
"We all do what we do because we love it," Jones says of the team of staff involved with Wolves Disability.
"But what makes it special is how it impacts others.
"There are often new people who turn up to a session and are quite withdrawn and shy, but then you see their development as players and personalities as they settle in.
"For so many of the players, they are Wolves fans, and so to actually wear the shirt and feel like they are representing the club is absolutely massive for them."
Having achieved one major aim, to have different age group teams with a pathway in place to move from youth to adult football, one fresh ambition is to progress from having two girls currently playing to being able to field an all-female team.
There are certainly no plans to stand still, with an enthusiasm and desire to keep the team operating at a high level and keep pushing forward.
Even as he looks back over the last decade, and reflects on a wonderful and emotional presentation night, Jones' attention quickly turns to looking ahead.
"We'll be coming back for pre-season soon."