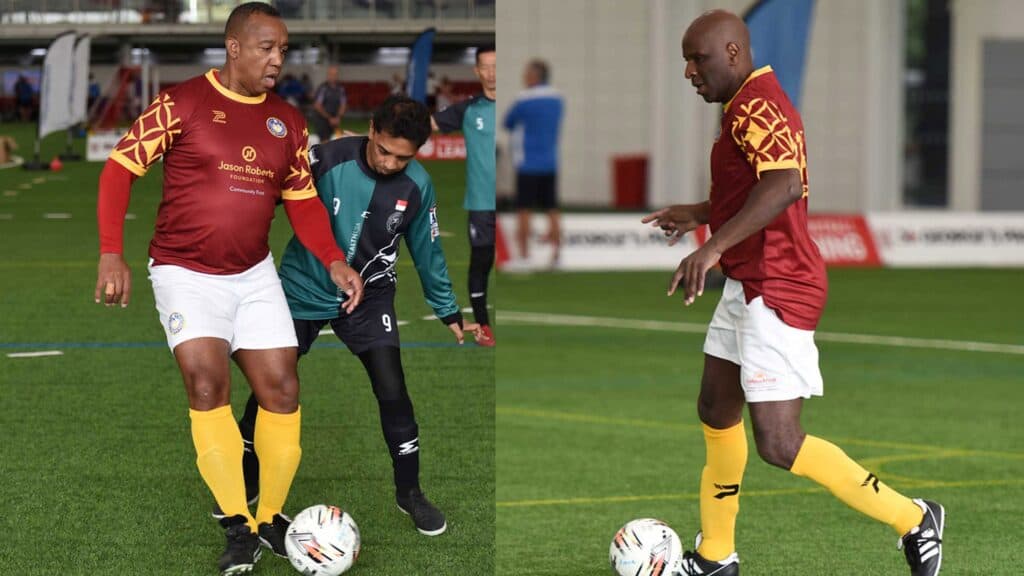 For Rob Wilson and Dave Wallace, trying out Walking Football with Wolves Foundation has opened doors which they could never have dreamed of, proudly representing their Caribbean heritage at the equivalent of a World Cup.
The two were part of the Walking Football Caribbean team which reached the quarter final of the inaugural Over-50s World Nations Cup at St George's Park, in what they hope will be the start of a successful association with the team.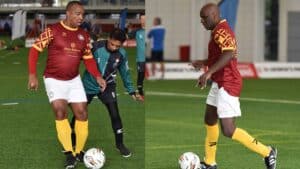 Both were born in England but have families hailing from Jamaica, adding to their pride and sense of occasion.
Highlighting their achievements during Black History Month, of which one of the themes this year is 'Saluting our Sisters', offers another reminder of the part families can play in supporting their loved ones to achieve success.
Saluting our sisters is a celebration of the role and contributions of black women to the community, and both Wilson and Wallace have family members, especially their mothers, who have delivered a constant supply of support and guidance.
Both also have family who came over as part of the Windrush generation, marking its 75th anniversary this year from the time when residents from Caribbean countries came over to the UK when the government needed workers to help fill post-war labour shortages and rebuild the economy.
"My mum Jenny passed away last year but she would have been really proud of me and this achievement," says Wilson, aged 54.
"She was my role model, and as a kid, she did so much for me and my friends when we were younger.
"In the Jamaican community, everybody is welcome and we always had a very busy house and my Mum would always be a great host, serving food and making sure everyone was looked after."
"My Mum, Iris, was always really supportive of me growing up," adds Wallace, 55.
"Cricket was her first love, as you might expect of someone from the Caribbean, but she loved all sports and always encouraged myself and my sister Sharon to play as many as we could.
"We were a one parent family but that never stopped anything, and Mum did everything she could to help me in my football to get as far as I could."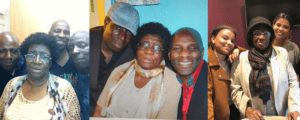 Both players enjoyed playing football at a decent level through adulthood before reaching that certain age where, for one reason or another, it was time to hang up the boots.
Separately they heard about the Walking Football sessions and fixtures run by Wolves Foundation at the Aldersley Arena, and have been involved with the squad for the last 18 months.
"I didn't know anything about Walking Football but, as soon as I started playing, I loved it," says Wilson.
"The lads were all really welcoming and while we take it really seriously it's also something we can really enjoy."
Wilson and Wallace both progressed to also represent teams in Birmingham before attending the trials for the Caribbean team in London, from where, with both being successful, all roads led to St George's Park.
The three-day tournament featured teams from 19 different nations playing high quality and competitive Walking Football, and was played in an excellent spirit.
The Caribbean team won five and drew one of their group fixtures, before going out on penalties after a goalless draw with Spain in the quarter finals, England being the eventual victors.
"What an incredible experience," is Wallace's assessment.
"We were gutted to lose in the quarter finals but a few days later, when someone asked me about the tournament, it made me realise that the whole experience had been absolutely brilliant – it was one of the highlights of my life.
"Everybody got on with each other and it was brilliant to meet teams from so many other countries, and to have that opportunity after finishing playing 'normal' football when you think that's the end.
"And it was all thanks to Wolves Foundation, because if it wasn't for me starting out with them, this wouldn't have happened.
"Having got the chance at the age of 55 to represent the Caribbean, I will never forget where it all started."
There is also a sense of pride within the Foundation's Walking Football set-up at seeing two members of the squad go on and achieve such success.
As Matt Campbell, Foundation Health Officer who helps run the Walking Football side, explains: "Our Walking Football programme offers individuals opportunities to continue playing a slower paced version of the game when the more traditional game becomes more difficult to access.
"Both Rob and Dave have become key members of our sessions not just for their playing skills but for having big personalities.
"Since starting Walking Football with us, they have really kicked on -pun intended! – and the success they have had is very well deserved.
"Myself and all the participants are incredibly proud of the pair's achievements and are looking forward to seeing where their journey takes them".
For now, that journey is set to take them back to London, where they will receive a cap for their achievements as well as a friendly against Australia.
Also on the horizon is a tournament in Wales in December and then Finland in March.
Support received by Walking Football Caribbean includes from partners the Jason Roberts Foundation, the charity launched by Jason Roberts MBE, whose first professional club in his hugely successful career was Wolves, back in 1997.
It is Walking Football Caribbean's intention to use this competition as a platform to fully promote the participation of this sport throughout the Caribbean, building on the success of the sport in the UK since its inception ten years ago.
Wilson and Wallace will love to stay involved, continue to represent the Caribbean culture and do themselves and their families proud.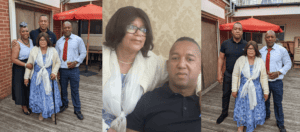 Dave Wallace with Mum Iris (centre), brother Danny (right), and sister Sharon (left).
"Being able to tell my Mum I had been selected for the tournament was probably one of the biggest things," says Wallace.
"She just couldn't wait to tell all of her friends, and to see what it meant to her was really special."
"I received many messages of support from the Foundation group which meant a lot, and being part of a growing global community and meeting people from all around the country – and the world – was truly fantastic," adds Wilson, whose pride is continuing down the generations with daughters Lauren and Mia.
"My mum came over from Jamaica in the 1960's, a few years after the first arrivals from the Windrush generation in 1948, and people at that time in that situation faced a lot of challenges and difficulties.
"But they always tried their best and always had smiles on their faces.
"I think saluting our sisters is a really important message for Black History Month as there are so many black females out there doing so many really positive things.
"There is a legacy there, with some stories which probably haven't yet been told, but we will be forever proud of our parents and those from that generation."