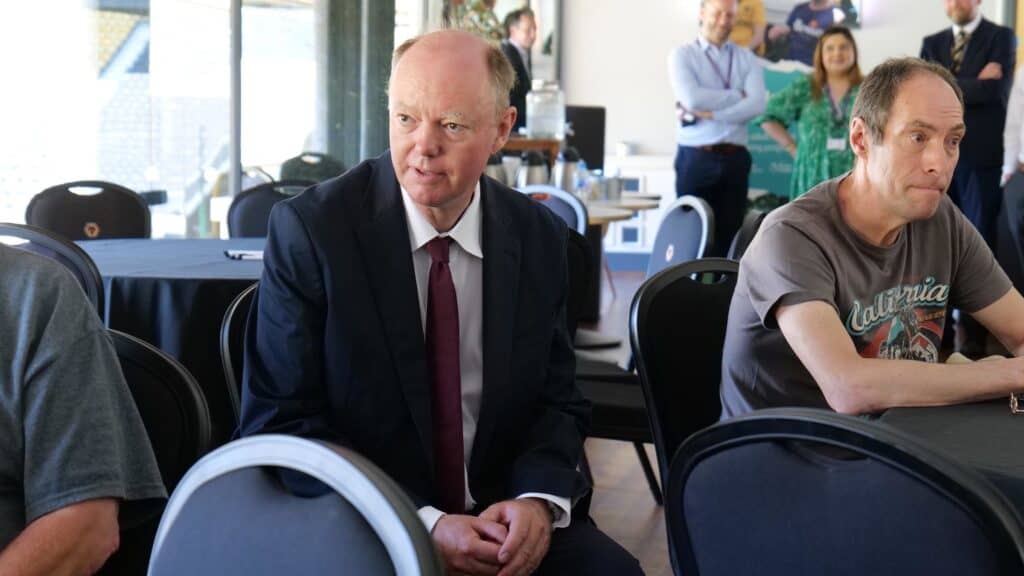 England's chief medical officer professor Chris Whitty heard about a range of public health interventions helping to improve the health and wellbeing of residents in Wolverhampton on a visit to the city earlier this month.
Professor Whitty met with Wolverhampton's director of public health John Denley and leaders from the local health and care system and saw first-hand some of the initiatives which are underway in the city.
This included a visit to Molineux to attend Wolves Foundation's Head 4 Health project. The Premier League and Professional Footballers' Association funded initiative helps adults with their mental and physical wellbeing.
He met with Foundation staff, before speaking to some of our participants about how the programme has affected them.
Professor Whitty said: "I was delighted to meet with health and care colleagues in Wolverhampton to see first-hand the excellent and innovative work that is taking place across the city to improve the population's health."
Head of Wolves Foundation Will Clowes added: "We were delighted to welcome Professor Whitty to Wolves to see some of the club's official charity in action, and are grateful to John Denley and our partners for allowing us to showcase Head 4 Health.
"As a Foundation, one of our key objectives is to encourage healthier and more active people and it is a massive part of what we do.
"Head 4 Health and a number of our projects are hugely important as we strive to improve mental and physical wellbeing across our communities."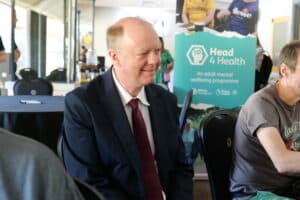 On his visit to city, the chief medical officer heard more about Better Health: Rewards, a six-month government-backed pilot programme which is running in Wolverhampton to support residents to eat better and move more, and the One Wolverhampton place-based partnership, a collaboration of health, social care, voluntary and community organisations.
Professor Whitty also visited the Mander Centre Health Hub, Central Library and Uplands Junior School to learn about a range of public health initiatives in Wolverhampton.
The day concluded with a round table discussion with Mark Axcell, chief executive officer of the Black Country Integrated Care Board, professor David Loughton CBE, chief executive of The Royal Wolverhampton NHS Trust, Paul Tulley, managing director of the Black Country Integrated Care Board, Tim Johnson, the chief executive of the City of Wolverhampton Council and Councillor Jasbir Jaspal, the council's cabinet member for adults and wellbeing.
Wolverhampton's director of public health John Denley added: "It was a great opportunity to welcome the chief medical officer to Wolverhampton and to share with him a range of initiatives which are underway to improve the health and wellbeing of our residents.
"I hope Professor Whitty saw that we are a forward-thinking, ambitious city, keen to work in partnership to improve the health of our residents."
Councillor Jasbir Jaspal, cabinet member for adults and wellbeing, said: "It was a pleasure to meet Professor Whitty, and we look forward to keeping him updated on our various initiatives, and particularly the outcomes of the Better Health: Rewards pilot."