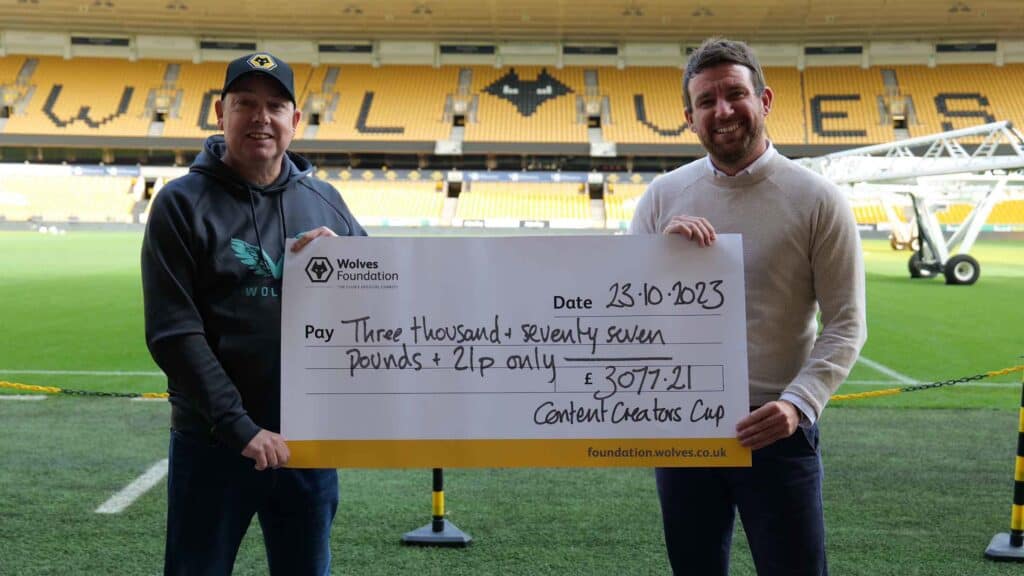 From creating content to creating chances, shooting footage to shooting footballs, eight teams took to the Academy Arena pitch at the Compton Park training ground in a fundraising tournament for Wolves Foundation. 
A total of £3077 was raised by players and spectators from the inaugural Content Creators Cup, organised by 'Dazzling Dave' who runs the Always Wolves podcast and came up with the concept of the seven-a-side competition. 
All the funds raised will be ploughed into the many projects delivered by Wolves Foundation across the city and beyond. 
"The Wolves Foundation does so much to help so many across our city, helping to change lives and support those in need," said Dazzling Dave. 
"So, it was fantastic that most of Wolves top content creators came together in a seven-a-side tournament to raise money. 
"I am delighted that it has raised over £3,000 and I know that the Foundation will put that sum to really good use for those in need. 
"I hope that this will become an annual event and fundraiser in aid of Wolves Foundation." 
Alongside Always Wolves, other teams taking part in the competition comprised Talking Wolves, the Wolf Whistle podcast, Wolves Foundation, Wolves staff, Wolves Fancast, the Wolfpack and the Wolves 77 Club. 
After several hours of lively and competitive action in the group stages, the Wolf Whistle defeated Always Wolves in one semi-final with Talking Wolves prevailing on penalties against Wolves staff in the other. 
And it was the Wolf Whistle who claimed the overall spoils with victory against Talking Wolves in the final. 
"It was a really enjoyable event with some great people involved and some very competitive football played," added Wolves Foundation's Business Development Manager Kieron Ansell. 
"When Dave first approached us with the idea, we were keen to support in whatever way we could, and everyone involved did a really good job in making it such a positive experience. 
"To have so many people supporting the Foundation was fantastic, and raising such a substantial sum of money will have a really significant impact on the projects that we deliver." 
One of the Foundation's ambassadors, TV presenter and singer Mark Rhodes, also donned the boots – just as he has at Molineux previously in testimonials for Matt Murray and Jody Craddock – to turn out for Wolves 77 Club. 
The 77 Club lost all three of their fixtures, but Rhodes did score with a neat chip, and he was more focused on football – or more to the point fundraising – being the real winner on the day! 
"Yes, we lost every single game but that's not important," Rhodes quipped. 
"It was just a privilege to be part of such a fantastic event, particularly when so many people worked very hard to make it happen. 
"In its first year, raising over £3,000 for Wolves Foundation is amazing, and hopefully we can make it bigger and better every year."