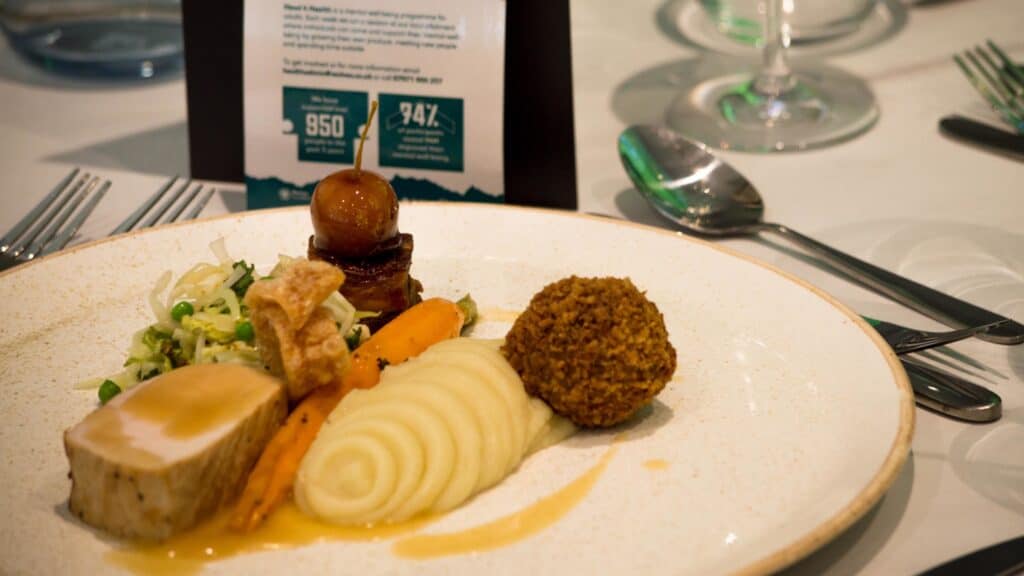 Participants on Wolves Foundation's Head 4 Health project have not only been improving their mental health by enjoying the great outdoors and working on an allotment – they have also been growing produce which the club have served up as part of its matchday catering operation.
The allotment in Heath Town has become a popular part of Head 4 Health, offering adults the chance to get together and grow their own food as part of the initiative which aims to improve mental health via workshops and physical activity.
Now, Wolves Head Chef Luke Hitchins and the club's food and hospitality provider Levy UK are providing guidance and support around the allotment with the carrot – pun intended – of ultimately using the fresh goods as part of their matchday offering to guests at Molineux.
"I think a really good way of describing our link-up with Head 4 Health and their allotment is that it is completing the circle," says Luke.
"It is multi-faceted in terms of how many different benefits are involved.
"There is the social angle – people getting out and talking about their issues and improving their mental health – as well as the physical aspect, working outdoors and enjoying some exercise.
"And then for me, being a head chef, obviously food is very important, and the final part of the circle is the allotment itself, growing and preparing food that will then be served to supporters and guests on a matchday.
"They have already grown enough potatoes to supply the mash which was served in our Chairman's Suite to 35 directors and guests at the home game with Brighton, and, ultimately, the aim is to provide enough vegetables for the 125 covers in the Boardroom for the fixture against Manchester United in January.
"It's such a great idea where people on the Head 4 Health project can go to the allotment, have a good chat whilst getting fresh air and exercise, and work towards that end goal of growing food which will be eaten by the club's corporate guests, giving them a real sense of accomplishment."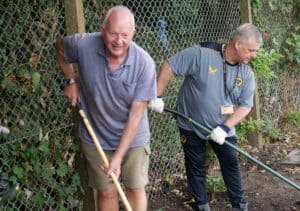 Steve Maiden, health officer with Wolves Foundation, says the allotment has become one of the many different features of Head 4 Health which has helped participants make progress.
"We are fortunate with Head 4 Health to be able to put on a range of different activities, along with the educational workshops, which offers participants the chance to get together with a purpose and share their experiences and problems," he says.
"When people are working together on a project like the allotment, it is a far more open environment for them to chat and provide support to each other, along with the benefits of getting exercise and being in the open air.
"The support of Luke and all at Levy has been very well received and much appreciated, as it gives a sense of purpose and an end goal which everyone can focus on and work towards."
This isn't the first time that club staff and Levy have linked up with the Foundation, with Luke having previously run a cooking class alongside first-time players at one of the school holiday activity camps as well as a class for adults on Head 4 Health earlier this year.
"Delivering the cooking class to Head 4 Health was another really good session, especially at the moment when we know people are struggling with the cost-of-living crisis," Luke added.
"We showed them different ways they can make food stretch and last for longer, as well as working with one of the participants who had food anxiety.
"Head 4 Health is such an important group and it's great that we are able to provide support, and Steve and the staff have such a good radar of seeing if and when people are feeling anxious – and that includes me.
"We obviously have to prepare and serve a huge number of meals in a very short space of time on a matchday and I can get anxious in the build-up, stressing around whether I have ordered enough and not sleeping in the days leading up.
"If I see Steve during the days when a match is approaching, he will notice that and will just ask me how I am and check all is well, and that is a skill which he and the Foundation staff always show with the participants of Head 4 Health."
As work in the allotment continues through the Autumn and Winter months, Luke is also keen at some point to invite Head 4 Health participants to a game themselves, where they can enjoy a matchday experience and be served up with the food they have helped to prepare.
Being able to work with the Foundation and use the produce from the allotment in this way is also a really worthwhile contribution to Wolves' efforts to become more sustainable and their strategy of 'One Pack, One Planet'.