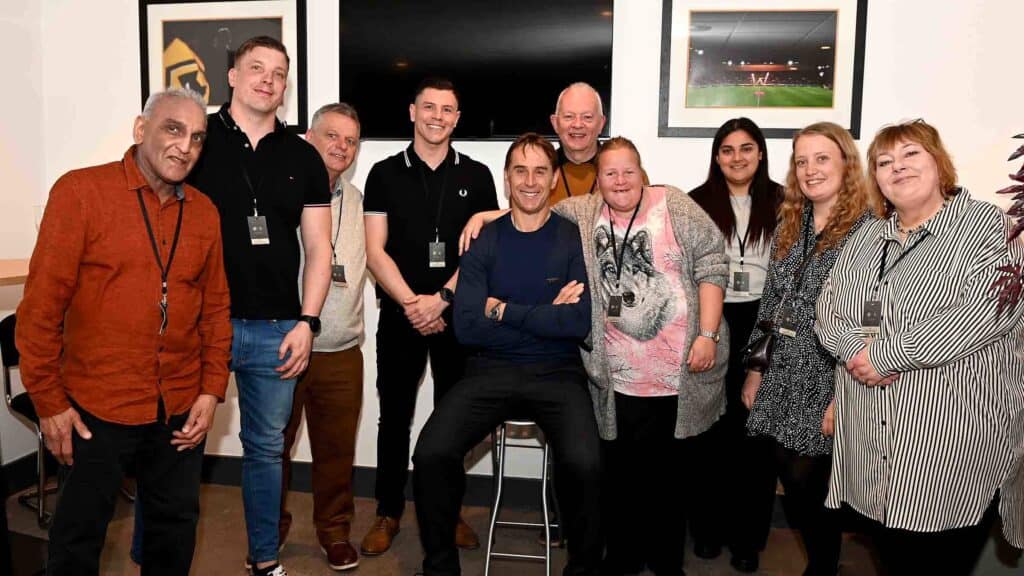 Wolves Foundation's Head 4 Health programme has changed the lives of hundreds of local adults, improving their mental wellbeing.
But for Carl Turner-Bennet and Simon Reece, Head 4 Health provided so much more than just a positive difference to their mental health.
The pair both started attending a course in June 2022, and instantly struck up a bond.
Carl said: "I actually started the course just a few weeks before Si did when I got put in touch with Wolves Foundation through Recovery Near You. I was suffering with anxiety and they recommended Head 4 Health.
"It's difficult for me working nights so I had to wait to get on a slot on the right course at the right time", said Simon. "I came on a Monday evening just before work. We had people coming in and doing talks and I've learned a lot."
Head 4 Health cohorts comprise of eight weeks of sessions, each involving some physical activity alongside an informative workshop. The workshops include a range of topics, from mental health awareness and coping with stress, to alcohol awareness and nutrition.
Simon works as a construction engineer, while Carl has recently started a new role as a bus driver. The pair continue to attend Head 4 Health's Extra Time sessions together, Wolves Foundation's offer of sustained mental health support for all participants.
"The Extra Time sessions are a more casual and open chat", Simon explained. "You get to know how people are doing and it's valuable. It's a good thing to come to."
Carl added: "My anxiety was really bad before coming to Head 4 Health, so the course has been massive and helped me a lot.
"I'd never really done anything like this before on the mental health side of things. Talking to the lads and meeting new friends like Si and a few others – we can relate and we can talk to each other."
After tackling some of the physical activities through Head 4 Health, which include the likes of badminton, golf, and walking, Carl and Simon were looking for a challenge to get the competitive juices flowing.
And the Wolves 10k run in March offered the perfect backdrop for the friends to challenge themselves.
Carl said: "I've got to say it was Si's idea! We were talking about the gym and I was just saying how I was struggling for motivation. I did a bit of running when I was young but not in my adult life."
Simon said: "I did some running in lockdown. I enjoy it if I've got someone to run with, but I couldn't do it on my own.
"Once you were in the middle of the 10k it didn't seem that far with the atmosphere and everyone dragging you along. There were people coming out of their houses to see us as well.
"And we had each other to talk to didn't we?", Carl added. "You have so many people around you running, and people outside with signs, clapping and cheering us. It was really nice actually."
After speaking with Wolves Foundation health officer Steve Maiden, who led the pair's cohort and currently hosts their Extra Time session, both decided it would be a great idea to use the event to raise awareness of the club's official charity.
"When we booked the race, it asked if you'd like to add a t-shirt to run in. Si wondered why don't we ask Steve if we can support the Wolves Foundation? It was yet again one of Si's brilliant ideas!", laughs Carl.
"We only signed up days before the event so didn't have much time to fundraise! We are going to raise some funds for the Foundation because we didn't get to do it before because of how last minute everything was."
The link between physical activity and mental wellbeing is a strong one. Keeping active is proven to help aid mental health and wellbeing, boosting self-esteem, encouraging better quality sleep and improved mood.
Both men have rediscovered a buzz for exercise after taking on the 10km, which started and finished at Molineux Stadium.
Simon said: "I like trying to push myself to see what I can do. I go to the gym every day and set some targets for where I'm trying to get to and that helps having something to aim for.
"I've always been quite healthy and fit until I hit 30, had a daughter and then life gets in the way a little bit doesn't it? I started going back to the gym about 2 years ago now and ever since then my physical exercise has taken off again."
"The gym is definitely something that is good for your mental health, so I think it's something I'm going to do now", Carl added. "I used to play football a lot and I don't play anymore, and I think my mental health got worse when I stopped that. It's good for you getting active and running around.
"Running is definitely going to become a part of my routine. I've found a love for running again so I'm definitely going to be doing more of it."
The friends are already discussing completing the Wolves 10k again next year, as well as other challenges to aim for.
And with the pair even planning a group holiday with some other friends met through Head 4 Health, the future is certainly looking bright for Simon and Carl.
If you or anyone you know would benefit from mental health support, please visit the Wolves Foundation website.