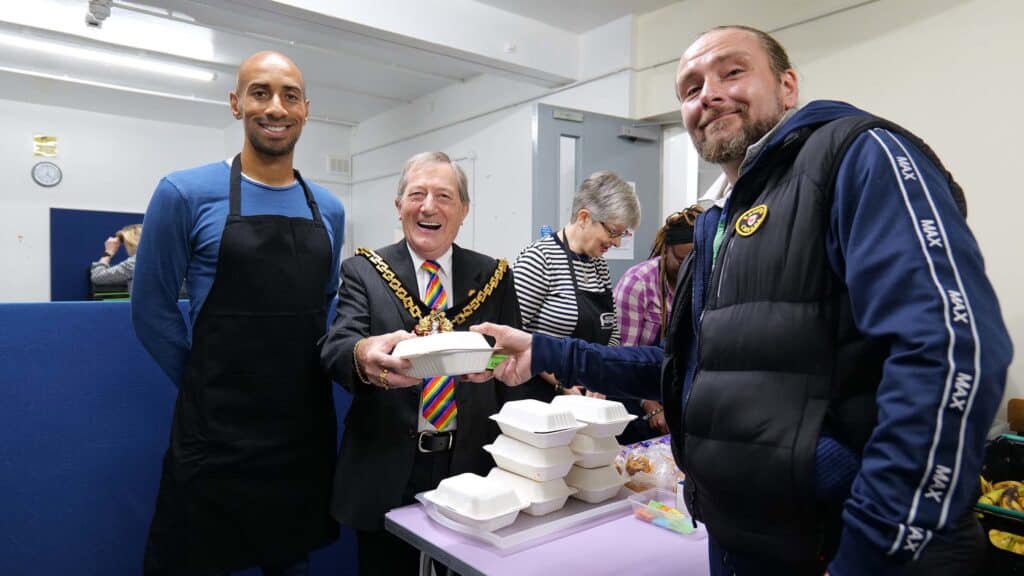 Wolves Foundation ambassador Karl Henry and his former headteacher at Coppice School – the Mayor of Wolverhampton Councillor Dr Mike Hardacre – are encouraging fans to support this year's Molineux Sleepout.
Henry, the club's former promotion-winning captain, has booked his place for the fifth consecutive year for the event on Friday, November 17th, and the Mayor is also planning to pop in and show his support.
The two linked up to spend some time helping out at the dining service of the Good Shepherd on Monday, the charity which will benefit – along with the Foundation – from funds raised by the Sleepout.
"With my role as an Ambassador of Wolves Foundation, and the visits I have made to the Good Shepherd, these are two fantastic causes who will benefit from the Sleepout," says Henry, who was born in Wolverhampton and brought up in Ashmore Park.
"I have taken part every year so far, and am really looking forward to getting involved again.
"When you know about the work that both the charities deliver, being able to support them has such a positive impact on the local community.
"It's such an important event and I have said already, let's make this the best one yet, so please buy your tickets, get family and friends along or support someone who is taking part."
"I would like to add my own complete support for the Molineux Sleepout and encourage people to support the event," added Councillor Dr Hardacre.
"We know what a good job Wolves Foundation carries out for people of all ages across the community and the fantastic work being done by the Good Shepherd in helping people affected by the cost of living."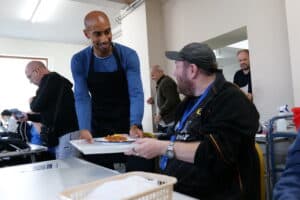 As the two linked back up at the Good Shepherd to both serve food and find out more about the charity, there was also time to re-live some old memories of when Henry was the pupil at what is now Coppice Performing Arts School, one of the Foundation's partner schools,  and where the Mayor was his headteacher!
"It was a pleasure to see Karl again and brings back memories not just of him but his sister, the formidable Latoya," said Councillor Dr Hardacre.
"She is a character and one of those people I always admired because she always asked the important question of 'why' – 'why have I got to do this'?
"And if anybody came anywhere near Karl threatening anything they quickly submitted to the wrath of Latoya – and that includes one or two members of staff!
"Karl has always been a gentleman, and both he and Latoya were brought up so well by their mum and stepdad Dave.
"His commitment at school was total, and I have been so thrilled to watch his career as a footballer and then what he has done since he finished with his support for charities.
"He is a good man who is trying to make the world a better place, and I have always been very proud of the young people from Ashmore Park and I still am.
"People like Karl are a real credit and make you remember why you went into the job in the first place."
For Henry, who left school to go and join Stoke's youth set-up where he made his breakthrough before later returning to Wolverhampton to lead Wolves to the Premier League, he remains extremely appreciative of the support of his former headteacher.
"I have such fond memories of Mr Mayor as my headteacher and I loved my time at school," he recalls.
"He was completely understanding of my situation in talking to me and my Mum when I left, because moving up to Stoke halfway through my GCSEs was a big call from everyone concerned.
"We all know how few people go on to become footballers and I really appreciated that decision as, without it, I might not have enjoyed the career that I did.
"I always thank a lot of people for the career that I had, from my parents to all the coaches, but I would include the Mayor in that because that was a huge moment.
"Going to school in Ashmore Park, for a lot of teachers it was probably quite challenging, but they always had my utmost respect because they made it a real pleasure and myself, my sister and my Mum look back with nothing but fond memories.
"And then to see our former Headteacher go on and become mayor, on social media I think it brought a whole generation of us back together again saying: 'have you seen who has become the Mayor?!'
"It was something that we all enjoyed seeing and I think he is doing Ashmore Park and the surrounding areas proud and is doing a fantastic job."
Interested in taking part in this year's Molineux Sleepout and supporting the Good Shepherd and Wolves Foundation? Click here for details on buying a ticket or here to set up fundraising or make a donation.