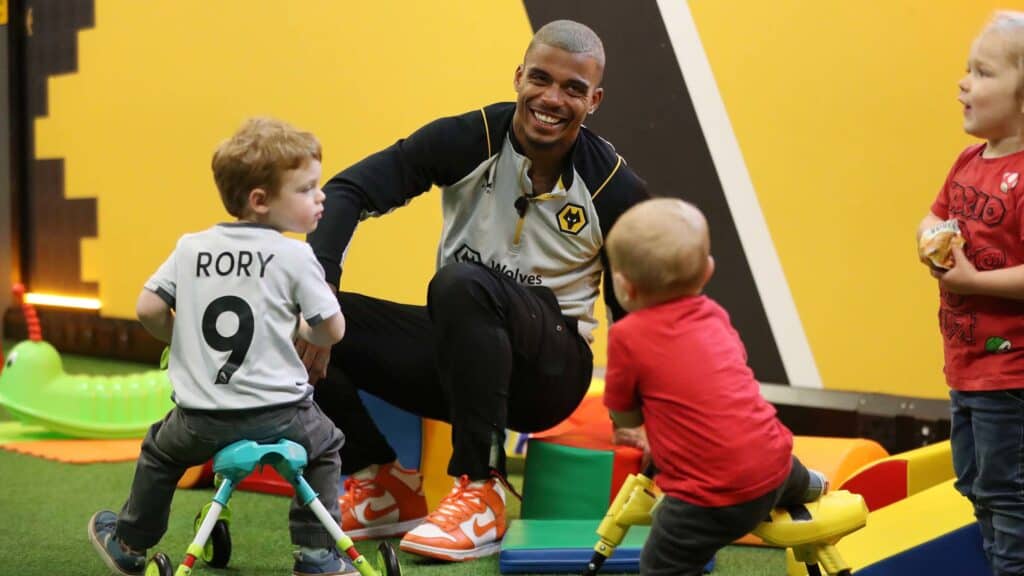 He wasn't brought to the session from France in a Ford Cortina by Jeff Shi, but Wolves midfielder Mario Lemina's impact on Wolves Foundation was just as positive as that which he has delivered on the pitch when he visited a Healthy Goals session.
The January signing was the special guest at a 'Stay and Play' session for the project which promotes the healthy growth and positive emotional wellbeing of children aged under four and their families.
The Gabonese international player got into the spirit of the project and took part in the different challenges all based around physical activity.
"The Stay and Play session was based around sports day activities, the main one of which was an Egg and Spoon race," says Jade Sutton, senior health officer with Wolves Foundation.
"There was also a little bit of football involved, and the children had been practicing their goal celebrations to show Mario when they scored.
"One of them also made him a 'fake' cup of tea which he pretended to drink and seemed to enjoy!
"He was really great and got right into the spirit of things, mucking in, not being afraid to be a little bit silly and making sure everyone was getting involved.
"All the children really enjoyed him visiting and it was great for the parents to meet him as well – we've already received some lovely feedback."
Healthy Goals runs several different activities to ensure it caters for the different age groups covered by the initiative, which is funded by the Premier League and Professional Footballers' Association with additional support from the City of Wolverhampton Council.
That includes not just Stay and Play, which is also delivered at the Britannia Hotel, but also Baby Zumba and Fit Momma sessions.
"With children aged from birth to four years old you are actually looking at quite a wide range in terms of what they can do," adds Jade.
"It's nice that we are able to put on different types of activities for Healthy Goals, and that they are all so well attended."
To find out more about Healthy Goals, visit the Wolves Foundation website, email jadesutton@wolves.co.uk.