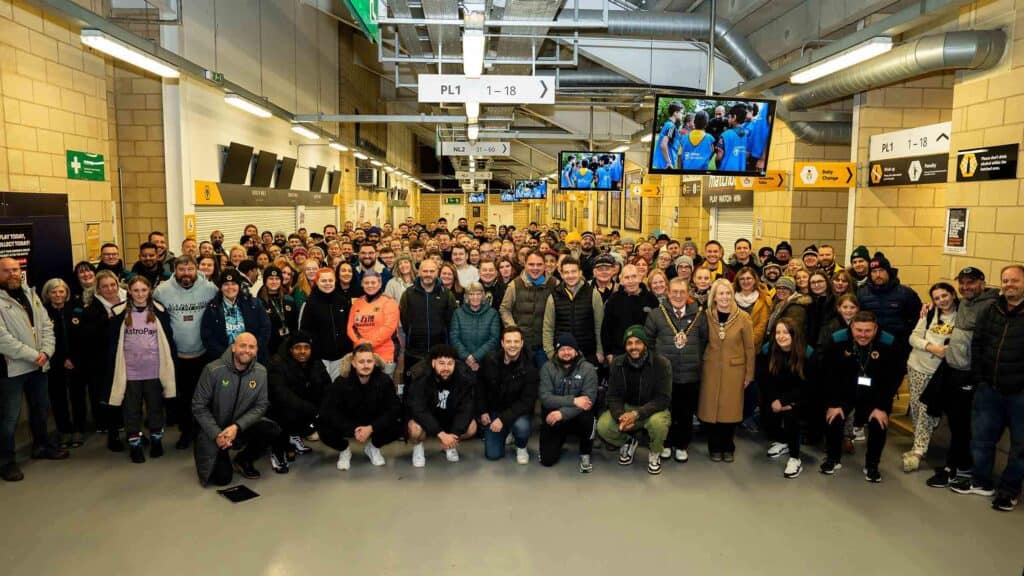 Over 150 hardy fundraisers braved the worst conditions yet for the Molineux Sleepout by taking on the challenge to support some of the most vulnerable people across the city.
Friday night's event, the fifth in total, saw participants sleeping in the Stan Cullis Stand during a bitterly cold night which included a howling wind and regular heavy downpours.
Their fantastic efforts have now seen the fundraising total break through the £50,000 barrier in sight of the overall aim of £60,000 which would be the highest amount raised so far.
All funds are shared between the Foundation and the Good Shepherd, supporting people experiencing homelessness and poverty across Wolverhampton.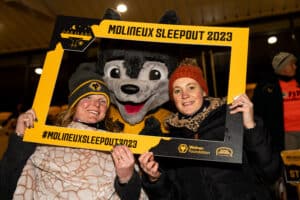 "It was a very challenging night weather-wise for everyone taking part on Friday, and we just want to thank everyone who braved the elements to support people from the city," said head of Wolves Foundation Will Clowes.
"The Molineux Sleepout has become such an important event over the last four years, not only raising a significant amount of funds which go directly towards helping people, but also increasing awareness of the challenges we face both in the city and nationally.
"It is really important for us as the Foundation as the club's official charity to understand our responsibilities within the city and to use the reach of the football club to engage people in positive activities.
"So, for people to give up their time, their money, their beds and their home comforts, as well all come together to help people in need across Wolverhampton, is a really powerful community message."
Across the five years of the event, one of which was held 'virtually' during the pandemic, over £200,000 has now been raised.
The Mayor of Wolverhampton, Councillor Dr Michael Hardacre, and leader of the City of Wolverhampton Council, Councillor Stephen Simkins, were among the special guests who took to the stage to speak to Wolves TV Presenter Gemma Frith.
"It was truly humbling to see all of the volunteers giving up their home comforts to raise money and awareness for homelessness," said the Mayor.
"They were doing a great and bold thing in trying to make sure that people who find themselves in really difficult circumstances are able to retain some of the dignity that we should all be entitled to."
"It is only one night for us, but it is important to really understand the concept of homelessness so we can try and make a change and make that difference," added Councillor Simkins.
"Wolves Foundation and the Good Shepherd both deliver some excellent work and give us this opportunity to unite the community and come together to look after people in our city."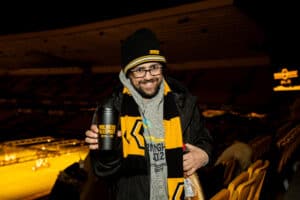 A range of special guests and ambassadors from both charities were also in attendance and speaking to participants, including broadcaster Mark Rhodes, music artist S-X, comedian Jack Kirwan, former Wolves players Carl Ikeme and Karl Henry, chef influencer Mitch Lane, Wolves Women players Shan Turner and Ellie Wilson and Wolves Records first signed artist Reepa, who voiced the promotion video for the Sleepout.
Good Shepherd CEO Tom Hayden was also interviewed alongside service users Donna and Chris, who both told their powerful stories of how the charity had supported them through really difficult circumstances into finding training and employment.
"The Good Shepherd have been in the city for over 50 years now, and provide a wide range of support services to help people move on with their lives," said Tom.
"Events such as this, and our partnership with Wolves Foundation, is so important to us particularly as demand has increased for our services.
"We always say that Wolverhampton was already experiencing a cost of living crisis even before the national one came along, that and the pandemic brought more people into poverty and having to access services like ourselves.
"Over last year we helped between 1000 and 1100 people, but this year we have already supported 1200.
"A lot of our services are delivered via fundraising, and so everyone taking part in the Molineux Sleepout is directly helping what we do, and for that we can only say a massive thank you."
Both Donna and Chris have benefited from the LEAP programme at the Good Shepherd, offering people with experience of homelessness and other issues including poor mental health and addiction, the chance to volunteer and access training opportunities.
For Chris, that has led all the way to a role as a Peer Support Worker with the NHS, whilst Donna is now pursuing a Level 3 Diploma whilst volunteering as a Support Worker.
Funds raised from the Molineux Sleepout have supported people like Donna and Chris and so many more who benefit from the work of the Good Shepherd and Wolves Foundation.
The fundraising page for the event is still open, and donations can still be made by clicking here.