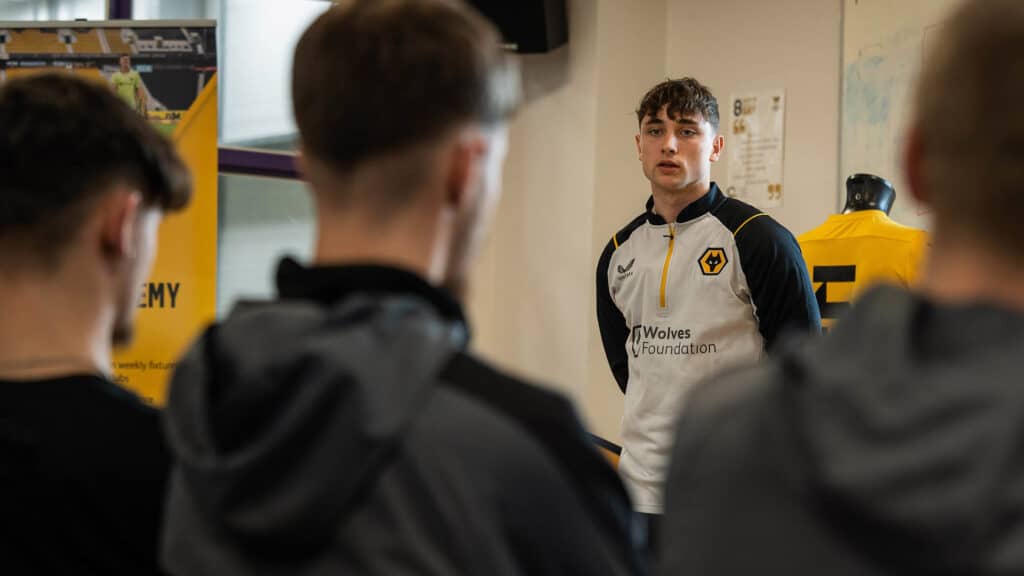 With April marking Stress Awareness Month, Wolves midfielder Joe Hodge took the time to visit students at City of Wolverhampton College and take part in a stress workshop run by Football & Education coaches from Wolves Foundation.
The Foundation run a Football & Education College Academy based at the Wellington Road Campus in Bilston. Students study a BTEC Level 2 or 3 in Sport, while representing Wolves in the EFL's CEFA league against other professional clubs.
Hodge opened up to the students about his experiences in football so far, and stresses both on and off the pitch.
This included dealing with the aftermath of his crucial penalty miss in the Carabao Cup against Nottingham Forest, but also personal stresses such as moving from Manchester to Wolverhampton as a teenager.
"I think it is always important to do visits like this and I really enjoyed chatting to the students and answering their questions," said Hodge.
"We were of similar ages so had shared some similar experiences.
"Chatting about the stresses in football, for me one of those might be what people are thinking and the gaffer and his decisions they make.
"It's not something I can control because I don't pick the team but what I am always thinking about is what I have to do to get in.
"Another thing is trying to earn the respect of senior players and the fans which is something which can be easy to worry about even though again, it's something that I can't control.
"It's good to talk about these things whilst I also make sure I do things away from football which occupies my time and gives me something else to think about.
"That might be going out with my flat-mate to play snooker, go to the driving range or pop home to see my family.
"I think that's important and gives me a bit of a break from the day-to-day football and being in training."
Bradley Moore oversees the Foundation's Post 16 provision, including college and degree programmes. He said: "It was a great opportunity for our students to hear from a professional footballer and we're really grateful to Joe for coming along."
"He gave some unique insight on his career so far, and some of the moments he has felt stress. For someone so young, Joe was really articulate, and it was great to hear from him.
"As well as improving on the pitch during games, and helping them on their sport courses, we also want to help develop our Wolves students as people.
"Coping with stress and maintaining positive mental health and wellbeing is vital for everyone. We want to give the young people as much knowledge as possible to help them tackle difficulties they may face throughout their lives."