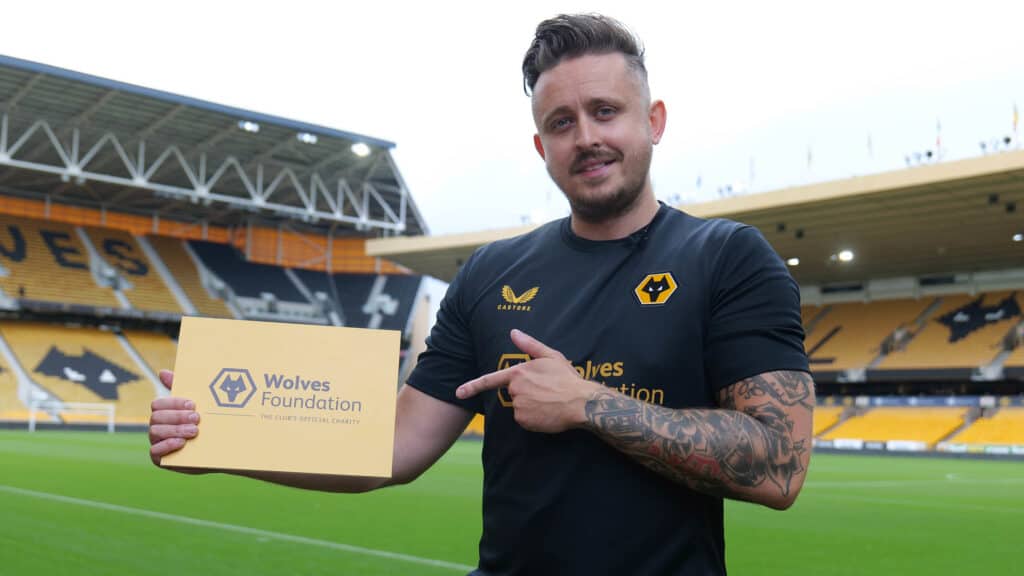 Wolves Foundation are delighted to announce home chef and influencer Mitch Lane as the charity's latest ambassador.
Born in Bilston, and now living in Wednesfield, Mitch's rise to prominence began during the Covid-19 pandemic in 2020.
The home cook's budget meals and no-nonsense approach captured the country's imagination and have seen his 'Meals By Mitch' TikTok account skyrocket in popularity.
Mitch now boasts 1.2 million followers on the platform, with over 500 million views to date.
"As a lifelong Wolves fan, to be here and able to try and make a difference is amazing. It honestly means the world and it's a genuine honour," he said.
"If someone said to me three years ago you are going to be an ambassador of Wolves Foundation I'd have said, 'no way, how is that ever going to happen'!"
As part of his new role, the father-of-three recently joined some of Wolves Foundation's Head 4 Health participants for a special cooking tutorial at Molineux.
Mitch showed the group how to create the Fajita Rice Bowl recipe from his cookbook – Feed Your Family for Under a Fiver – where the ingredients for every dish cost less than £5.
The book, released in April, was a Sunday Times bestseller, with the next instalment available for pre-order from today.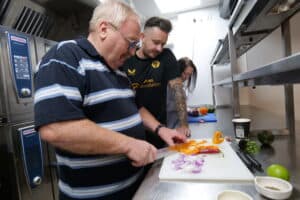 The home chef is passionate about helping people produce great food, even during a cost-of-living crisis.
Mitch said: "I want to show people that from very cheap, humble ingredients that are easily accessible you can really create something quite special. You can make some tasty, real showstopper stuff for a fiver.
"I've wanted to work in food for as long as I can remember. The lockdown is what inspired me to try and do something because I was at home, everyone had no money, and I thought 'let's show people how they can cook some food on a budget'.
"It was simple stuff like one-pan meals. I started doing the food videos on TikTok and it just blew up – people were asking for more and more.
"I used to come to Wolves games quite regularly, I've only been to one Premier League game though on my birthday earlier this year.
"When we were in the Championship and League One, I was coming to all the games, even the cup matches, so I've always been a massive fan. I think that's what makes it such a nice fit really."
Mitch now regularly features on TV shows such as the BBC's Morning Live to share his tried-tested recipes with the nation, as well as appearing at the BBC Good Food Show.
And he is already looking forward to attending Wolves Foundation's inaugural Gala Dinner, followed by the annual and ever-popular Molineux Sleepout event in November.
Will Clowes, Head of Wolves Foundation, said: "We're absolutely delighted to have Mitch on board as an ambassador.
"One of our major priorities as the club's official charity is to help people through the cost-of-living crisis, so Mitch's ethos aligns with ours perfectly.
"As a father, we know he understands the struggles many families are facing, so it's fantastic to see how keen he is to give back and support the community.
"Mitch is a brilliant local success story, and we're excited to see where we can work together to make a difference."
Mitch Lane's new cookbook, Feed Your Family for a Fiver – in Under 30 Minutes, is now available to preorder here.
Or you can follow Mitch on TikTok – @mealsbymitch.
Find out more about our other Wolves Foundation ambassadors here.