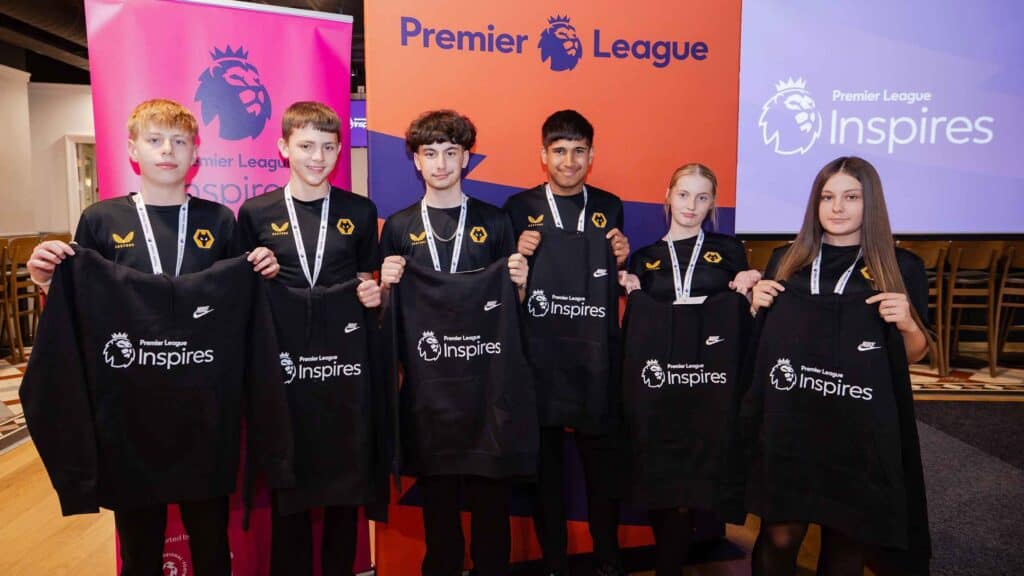 A group of students from St Edmund's Catholic Academy have earned national recognition for an innovative project focused on recycling as part of the Premier League Inspires challenge with Wolves Foundation.
'What an 'Edder' – befitting of the school's name – is the title of the initiative from the year 10 students, delivered as their response to the challenge of how to 'Protect the Planet', the question put to young people on the PL Inspires programme from different clubs across the country.
Five impressive ideas then emerged from celebration events staged among participating clubs, with the Foundation's entry via St Edmund's – aimed at recycling plastic bottles and cups from a matchday to make training tops for players and fans – was voted as the overall favourite by their peers and members of the Premier League Charitable Fund Protect the Planet Youth Panel.
"Working with the Wolves Foundation on the Premier League Inspires Programme offered such fantastic opportunities for growth and development of our students," said Russell Banks, inclusion manager at St Edmund's.
"Winning the overall project has been an amazing validation of all the hard work and dedication our students put into the project. I am very proud of how they have grown and what they have achieved."
The process started with an event at Molineux where participants from different schools on Wolves Foundation's PL Inspires programme put forward their ideas to improve sustainability in front of a Dragon's Den style panel of staff.
The team from St Edmund's won through that competition and then continued to tweak their plans whilst promoting them to a wider audience, including Wolves Foundation senior manager, Tom Warren.
"I think their idea for a social action project of using plastic bottles and cups after a matchday to then turn into training tops is a really good one," said Warren.
"The whole concept is really visual, which I think is important, and it will prompt questions among people and provide education on what is possible within the world of recycling.
"The fact that the idea has come from young people at one of our partner schools is a powerful message, especially if we as a club can then help them to go on a journey with it."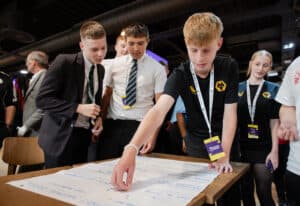 Kurran Kullar, senior schools officer (secondary), with the Foundation, works closely on the PL Inspires project, which uses the power of football to inspire young people aged between 11 and 25 to develop the personal skills and positive attitudes needed to succeed in life.
"When setting different schools the challenge of coming up with a really impactful project about sustainability and the environment, we received some really strong and creative responses," said Kullar.
"One of the many strands of PL Inspires is to encourage social action and it was really fulfilling to see how the students embraced the task and came up with so many good ideas.
"To see the group from St Edmund's not only go forward from our event but then be named as the most impactful from so many fantastic projects was fantastic, and a real credit to all of the young people involved."
As a result of producing the most impactful project idea for the 2022/23 season, the students from St Edmund's were then engaged by the Premier League to feature in a video to launch the challenge for the 2023/24 campaign, a real honour.
"I was really impressed with the idea the students came up with and it was a really worthwhile exercise to see them working together," Banks added.
"Some of the quieter students among the group really came out of their shell and it was a project which really benefitted their teamwork, confidence and public speaking skills."
Premier League head of sustainability, Will Hutton, said: "Environmental sustainability is of great importance to the Premier League and our clubs, and we must all play our part in this important issue.
"The Premier League Inspires Challenge has seen thousands of young people across England and Wales come up with ways to tackle climate change. By taking on this social action project with Wolves Foundation, the young people from St Edmund's Catholic Academy have developed an idea that could make a real difference to the world around them. I hope that they continue to build on this and help to drive positive environmental sustainability action in their school, at home and in their local community.
Premier League Inspires is a personal development programme, funded by the Premier League and Professional Footballers' Association (PFA) through the Premier League Charitable Fund. More than 29,000 young people across England and Wales have benefited from the programme to date. Visit the Wolves Foundation website for more details.