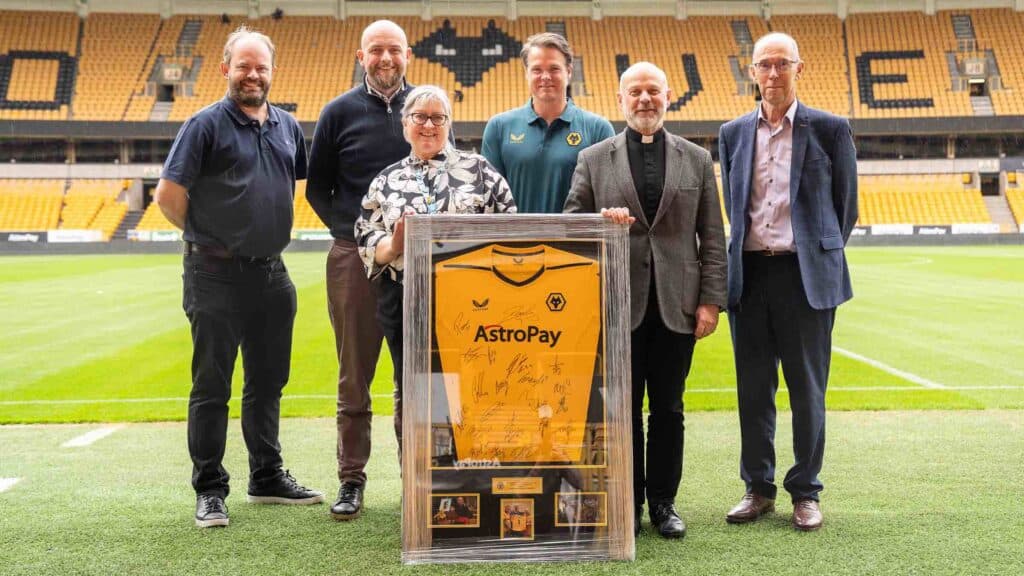 "I was born in Manchester and am a Manchester City fan and I remember telling Rachael Heyhoe Flint when I arrived that if you cut me, I bleed Sky Blue," recalls the Rev Preb David Wright.
"She told me that by the time she had finished with me, I'd have a heart of old gold, and ultimately, that is what has happened."
Having spent 14 years as Team Rector of Wolverhampton, during 13 of which he has served as Wolves' club chaplain, Rev Preb Wright, will be heading for warmer shores next month as he and wife Alice up sticks for a new life in Malta.
It is something – to quote football parlance – of a 'dream move' for the couple, who have spent almost 30 years taking regular holidays in the Mediterranean country, but that doesn't mean it isn't tinged with sadness about saying farewell to the good ship Wolverhampton.
"I always think of that conversation with Rachael, and of course, as Rachael generally was, she was right," says David, who will take his last service at the end of the month.
"We have grown to know and love Wolverhampton, and have been incredibly happy here.
"And I have grown to love Wolves, to the extent where it is now the first football result which I look for.
"But Malta is a place we have been visiting for nearly 30 years, it's another place that we love, and so the opportunity to go and run a church out there is one which is too good to miss."
St Paul's Pro Cathedral in Valetta will be the Wright's new port of call after moving on from St Peter's Collegiate Church in the City Centre, very different to Molineux and the Compton Park training ground, where he used to make weekly visits prior to the pandemic.
David would pop down, sometimes enjoy a spot of lunch, and just be a presence rather than pushing himself forward, just incase any staff or players were keen to have a conversation.
"One of the classic definitions of chaplaincy is lurking with a purpose," he explains.
"You are just there as a presence and if people want to talk to you, they will.
"If not, it is just a cheery hello and good morning, but it's about being there for a conversation if needed."
And on occasions those conversations have been very much needed, especially during some of the more turbulent times in the club's fortunes during the last 13 years.
As befitting anyone who is connected with Wolves over any length of time, there have been very stark contrasts of ups and downs during David's tenure as chaplain.
"It has been an absolute rollercoaster," he acknowledges.
"During my time – and hopefully not because of my influence – there have been two relegations, but also two promotions.
"I started here in the days of Mick McCarthy when Wolves were in the Premier League and everything seemed to be going well, but then came the successive relegations.
"It was seeing the effect those events had more on the backroom staff, as a lot of the players could move on, but seeing how staff numbers and budgets were then reduced.
"At that point it was about trying to support those people who were under a huge amount of stress as the club retrenched and resized.
"Then came the upward trajectory with the Fosun takeover and the club is in a very different place now."
David's role as chaplain has extended far beyond training ground visits.
Since taking the helm from Rev John Hall Matthews back in 2010, he has also helped launch and preside over the annual fans' memorial service at St Peter's, as well as major funerals or memorial services for Sir Jack Hayward, Baroness Heyhoe Flint, Peter Broadbent, Dave Wagstaffe, Bert Williams and Ron Flowers.
"Those were funerals and memorial services that probably extended beyond the families who had lost loved ones and also the club, but the city as a whole," adds David.
"People like Sir Jack and Rachael were great figures in the city, and those former players were known and loved beyond their family circles and beyond the club.
"They were idolised as people because of the careers they had at Wolves."
There was also plenty of fun involvement during his time as well, including once taking an acting role in a video alongside Steve Bull, Kevin McDonald, Benik Afobe and Matt Doherty as the St Peter's Church choir put their own stamp on some Wolves terrace anthems.
There are plenty of happy memories too, from the warm welcomes received from managers such as McCarthy and Nuno Espirito Santo, working relationships with the likes of Jez Moxey – which included recently being asked to deliver the blessing at his daughter Brienne's wedding – and, of course, Rachael.
"It was Rachael who set the wheels in motion for me to be appointed as chaplain and, of all the people I met, she is probably the absolute standout when I look back," says David.
"She headed up the restoration appeal for the organ at St Peter's and was always very supportive of the church.
"And using the many and vast connections which Rachael had often led to opportunities for people to do things that could help us!"
Above all else, and including both the work of Wolves Foundation and Wolves in general, Rev Preb Wright will always reflect on an institution which is steeped within the community in which it is set.
"A classic example of the club being rooted in the city was the 'Feed Our Pack' initiative from the Foundation during the pandemic, and indeed the work of the club as a whole during those difficult times," he adds.
"It is those meaningful links which show Wolves is firmly entrenched in the community and is more than just a stadium and a club plonked in the city.
"Whatever the success or failure on the pitch – and obviously everyone always wants success – it is rooted in the city.
"The club's joys and sorrows and the city's joys and sorrows and vice versa, they are together, as One Pack.
"Working in the City Centre as I have, and walking around most days you can always tell when Wolves are doing well and when they are not.
"When they have won, you can feel a buzz around the place, but when they are doing badly, then people look a bit more miserable!"
And talking of results, the big question for the lifelong Manchester City fan, who has two grown-up sons in Nick and Will, is who will he now support when Wolves take on the Premier League champions?
"I will sit on my hands," comes the immediate reply.
"I think when City were going for the Premier League title, because they needed the result, I wanted them to win.
"But when Adama (Traore) scored those two late goals for Wolves to win at the Etihad, that was really exciting.
"If there is nothing at stake for either club, I can be more neutral, and will sit on my hands.
"Just as Rachael suggested all those years ago, I have grown to love Wolves just as I do Manchester City."
Everyone from Wolves and Wolves Foundation wish David and Alice all the very best for the future and send a huge thank you for their service to the club.