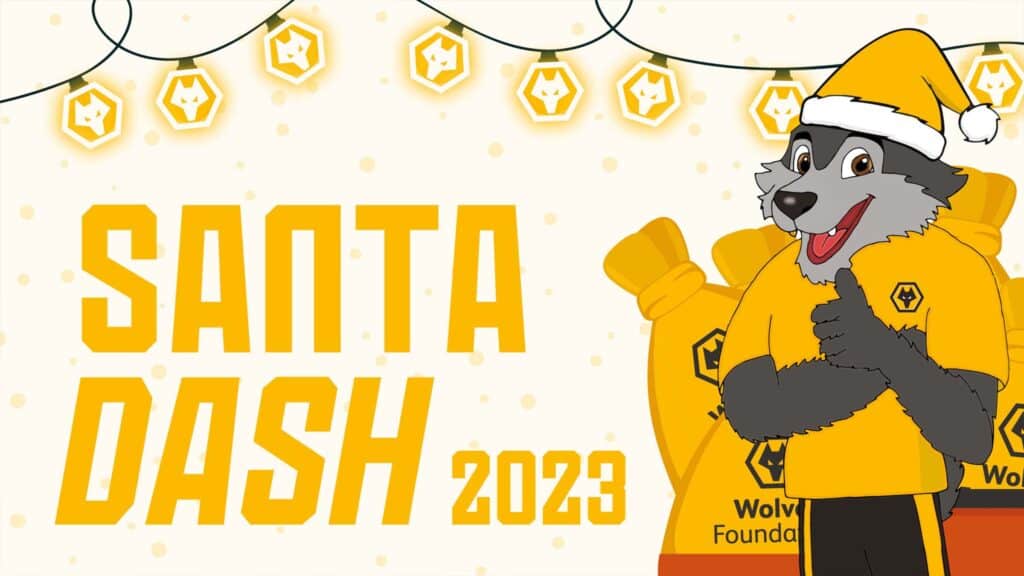 Christmas is coming! And so is Wolves Foundation's first ever Santa Dash with young supporters invited to get into the festive spirit and complete 'five Golden rings' under the lights at Molineux. 
Fans under the age of 14 can enjoy a fantastic festive experience by emerging through the Players' Entrance and tunnel to take their place on the start line before completing five laps of the outskirts of the pitch. 
And, what's more.  Both Santa and Wolfie will also be taking part! 
All funds raised from the event, taking place from 4pm-6pm on Saturday, December 16th, will be invested into Foundation projects which aim to create opportunities and change the lives of people across Wolverhampton. 
"We held our first Molineux Mile event for our Focus Fixture this year, offering young fans the chance to come to the stadium to take part in a fundraising activity, and it proved really popular," says Carla Hentsch. 
"With Christmas now just around the corner, we are delighted to be opening up the stadium once again for our first ever Santa Dash, offering young fans the chance to complete five laps – or five golden rings – around Molineux. 
"As well as the fundraising element which will continue to help the Foundation deliver so much important work around the city, it will also be a magical experience to come out through the player's tunnel and enjoy the experience under the floodlights. 
"We are looking forward to another fantastic community event at what is always such a special time of the year." 
Each young person under the age of 14 must be accompanied by one adult, with a limit of one young person per adult. 
Tickets are priced at £10 for Under-14s and £5 for an accompanying adult and can be purchased by clicking this link. 
The young people taking part are then being encouraged to raise a minimum of £35 in sponsorship.  Click here to visit the Just Giving page and set up your fundraiser. 
Wolves Foundation is Wolves' official charity, and delivers over 45 projects at 225 venues across the city, engaging over 50,000 participants between the ages of 0 and 92.