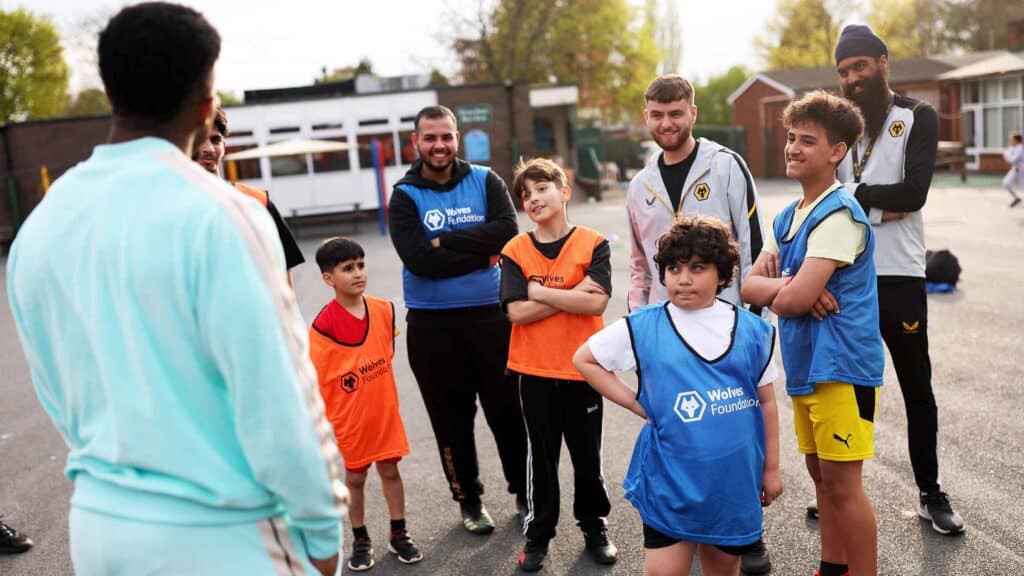 Wolves Foundation are continuing to work closely with the Refugee & Migrant Centre (RMC) to ensure newcomers in the city have opportunities to integrate within the local community and improve their physical and mental health. 
This week is Refugee Week, an arts and culture festival which began in the UK 25 years ago to celebrate the contributions, creativity and resilience of refugees and people seeking sanctuary.
The Foundation are linking up with both the RMC and South Staffordshire Council to put on a football session for adults during the week, which is an addition to several other activities which continued to be delivered both on a one-off and ongoing basis.
Recently, Wolves winger Adama Traore, as part of a series of initiatives he undertook to support the community during his observance of Ramadan, visited one of the Foundation's partner schools to meet refugee families as part of an activity session put on by staff.
During the recent Play on the Pitch sessions at Molineux during the close season, refugees and migrants took up the chance to grace the hallowed turf with some football and sports day style activities after the time slot was purchased and donated by Trade Nation.
This is all on top of a regular weekly Healthy Goals session delivered by Foundation staff at a local hotel, in conjunction with the Royal Wolverhampton NHS Trust 0-19 Service and RMC, to pre-school children and their families, helping them with their development.
"We have got a really good connection with the Refugee & Migrant Centre in the city, and liaise with them when we are working with refugees and asylum seekers," says Rachel Smith, Wolves Foundation's head of health & wellbeing.
"They are really good partners who we can work closely with to see how we can provide support and help people feel part of the community.
"As people say, football is a universal sport which so many people know and so it can be a really positive way of linking up and forming connections.
"As Wolves Foundation and the club's official charity, we aim to engage with all parts of the community, and being able to offer opportunities to refugees and their families is an important aspect of our work."
In the past, the Foundation have also worked with RMC with the Head 4 Health project, supporting refugees by organising physical activities but also with their mental wellbeing, given many have experienced challenges before arriving in this country.
The Foundation's Christmas Shoebox appeal has also provided presents to RMC which have been distributed to children from migrant families who would otherwise receive nothing at Christmas.
Refugee Week's vision is for refugees and asylum seekers to be able to live safely within inclusive and resilient communities, where they can continue to make a valuable contribution.