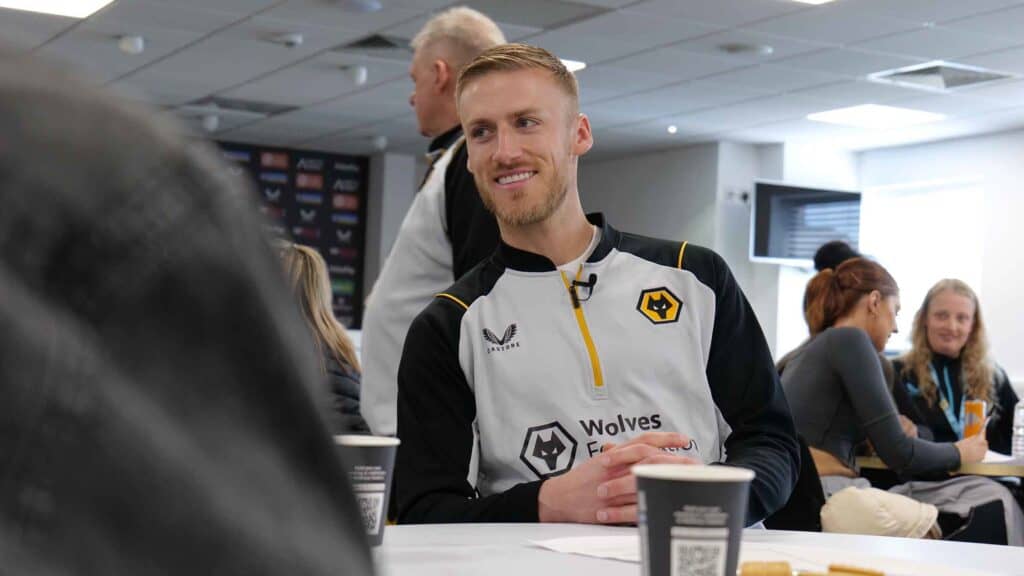 Fresh from an impressive Premier League debut against Manchester United at Old Trafford, Dan Bentley described how he 'keeps' himself focused on dealing with pressure and nerves during a visit to Wolves Foundation's Head 4 Health project. 
The 29-year-old goalkeeper, whose top-flight bow was also his first appearance for Wolves, having previously worked hard to progress from League Two up to the Championship, met participants and answered questions at one of the Foundation's flagship projects during Mental Health Awareness Week. 
Each table of participants had a stress container and chatted about what causes them anxiety – the theme of this year's Mental Health Awareness Week – with Bentley moving around and sharing his own experiences of life as a professional. 
He told participants: "I think the title of being a footballer – we get put on a pedestal. Everybody thinks we're untouchable and we don't have feelings. We're robots that just fit into a routine and everyone has expectations of us. 
"But footballers have feelings too, I've known players who have suffered with mental health, suffered with anxiety. I've known footballers that have hated every minute of being a footballer.  
"It can be quite ruthless at times and I have to use my experience to cope with the pressures of it – I can be nervous for sure.  
"'Nervous not worried' is a phrase I use a lot. Worry can lead to negativity and loss of concentration which isn't a good place to be in. But nerves can be good, I think it shows you care." 
Head 4 Health is a project which aims to improve the mental wellbeing of adults through educational workshops and physical activity in and informal environment. 
It was set up in 2019 thanks to funding from the Premier League and PFA Community Fund, and has also been supported by the City of Wolverhampton Council. 
"Through all the projects which we run at the Foundation, we aim to help people improve their mental and often physical health, but Head 4 Health is our flagship programme in providing dedicated and focused support in this area," says the Foundation's health and wellbeing manager Rachel Smith. 
"It has proved a really important part of our delivery since being set up in 2019, particularly as its arrival has coincided with some really difficult times for many with the pandemic and the cost of living crisis. 
"But looking at the positives, Head 4 Health has enjoyed some notable successes with people really improving their mental health and wellbeing, and the support we receive from visits from Wolves players just adds to that positive environment. 
"It was fantastic to welcome Dan, who was great with the participants, and the timing was perfect given he has just enjoyed a career highlight after working so hard over so many years to achieve his ambitions. 
"It was a really valuable session as he shared his experiences on how he deals with the stresses of the profile and pressures of being a professional footballer, and answered questions from people about their own feelings and what makes them anxious. 
"Everyone who attended was able to take something beneficial away from the session, and we are really appreciative of Dan for giving up his time and being so open and engaging." 
"It was a pleasure to come, it's been really good," Bentley concluded. 
"It's great that the Foundation puts this on and everybody feels this is a safe space to come and share."
Keep an eye on the Foundation's social media channels for a video of Bentley's visit in the coming days.