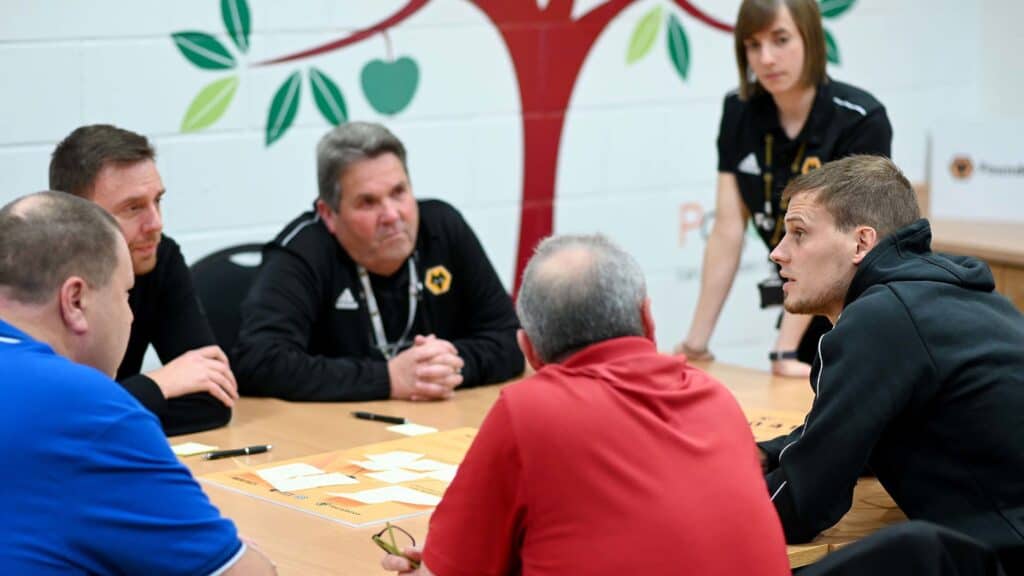 'Every club needs an AB'.  That was one of the farewell messages for Andy Butler, who has retired after an incredible 29 years' service with Wolves' Women & Girls section and Wolves Foundation.
And it was absolutely spot on.
Andy – AB – is the type of personality who everyone would want on their team.  Diligent, dedicated, hard-working, and willing to put his hand to anything for the greater good.
It is almost three decades since he first started volunteering within the Women and Girls section – when his then nine-year-old daughter Amy started playing – when the club was under the umbrella of Wolves in the Community.
As the club's charity evolved to become Wolves Foundation, and Andy retired from his day job of teaching, he became more involved in other projects, particularly in recent years with the extremely successful Head 4 Health initiative.
So, it was no surprise – except to him – that his final 'walk and talk' session with Head 4 Health participants around West Park ended with a large group of staff gathered by the Foundation's arch down the 'home straight' to applaud and mark his years of fantastic service.
"AB is an absolute hidden hero behind the progression of Wolves Women & Girls over the last 29 years," says Laura Nicholls, Wolves Academy Manager for Operations who previously worked with the Foundation, and has been involved with the Wolves Women section for many years.
"I still remember the first time I met him, after being introduced to by former club captain, Anne Blackham.
"Andy's daughter Amy had long moved on from being a player with Wolves, but he still wanted to help out and support in any way he could.
"That first night I met him, at the Jennie Lee Centre, we had boxes of second hand kit and he couldn't have been happier sorting through it all trying to match together a kit for the weekend's game.
"Always the first to training and matchdays, AB would often be there a good hour before the coaching staff, setting up goals, putting out corner flags and generally doing all the behind-the-scenes work which no one else wanted to do, but was so integral to us being able to function and play games."
Wolves Women back then was a very different place to how it is run operationally now, with the increased backing from the club in recent years leading to improvements in profile and infrastructure.
What has never changed however, has been the loyalty and commitment of all involved, and Andy, as a volunteer, has always epitomised that approach.  So much so that, ten years ago, he was named as Birmingham FA's Volunteer of the Year.
"I ran teams, was the secretary of women and girls, and carried out some scouting which I still do," he says before adding, with typical understatement, "a little bit of everything."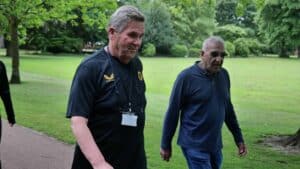 He continues:  "It's been great to see the progress in recent years taking Wolves Women to where we always wanted it to go.
"The club's backing has provided more impetus and having Laura go into the Academy has really helped.
"It has really pushed on over the last five years or so and hopefully that is going to continue."
Andy had combined his volunteering with teaching, an industry he occupied for a total of 39 years at schools including Perry Hall, Bilston C of E, Grove – where he was deputy head – and St Andrew's in Whitmore Reans.
It was when deciding to finish his teaching career nine years ago that an even closer development with the Foundation materialised, since when he has been involved with the Futsal programme and then Head 4 Health and Molineux Memories.
"I remember when he finished teaching, he spoke to me about being bored at home and he was looking for something to occupy his time," adds Laura.
"So, I had the bright idea of him coming into the Foundation to help with a new project we had just developed which needed a minibus driver.
"I'm not sure he thanked me for that, he was driving miserable teenagers around to games in a bus that had seen better days!
"He stuck it out though and that led to him working in the Head 4 Health and Molineux Memories programmes, which are where he really found his calling.
"He loved nothing better than chatting with the participants about the good old Wolves days and also educating them on the Women's team too!"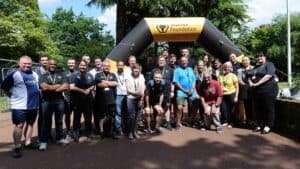 His job title most recently has been Project Support Lead, and Andy has clearly relished his involvement in some of the Foundation's flagship projects.  Continuing to make a positive impact on the lives of people in the community, as he always has.
"I was looking to move on from teaching, and getting some hours with the Foundation was perfect," he recalls.
"It started with the Futsal, and from there I got involved in other projects, as well as doing a bit more with the Women & Girls teams.
"I have been involved with Head 4 Health right from the beginning of the project four years ago, and the improvement that people have made in their mental health has been so good to see.
"Even on my final day, chatting to one of the guys about how he has progressed with his confidence and is now volunteering himself – some of the journeys they have been on show how important the project is."
Andy has several different family ties between Wolverhampton and Bristol. His Mum is from Wolverhampton, his Dad from Bristol, and, while himself born in Bristol, he moved to Wolverhampton to take up his first role in teaching.
At the age of 68, he is now retiring – definitely – and returning to Bristol, where his daughter still lives, and, is also planning to try and take on more volunteering as part of his new routine.
"AB has been a really key member of staff for the Foundation across so many years, both with the Women and Girls set-up but then as a member of staff delivering on our projects," says Head of Wolves Foundation, Will Clowes.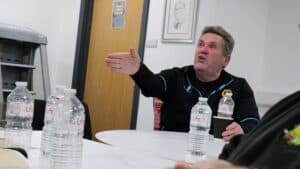 "From the time and dedication he showed as a volunteer, to the vast knowledge and experience he has then been able to pass on as a member of staff, his impact has been substantial.
"He has done more than enough to deserve to take a step back and have a bit more time for himself, although, knowing AB, I am sure he will find plenty to keep him occupied!
"On behalf of everyone connected with the Foundation, I just want to thank him for everything he has done over the last three decades, and wish him all the very best for the future."
The guard of honour which greeted his final assignment at West Park, with the sun shining, was certainly a fitting way for Andy to sign off.
"I didn't spot everyone at first when I walked around the corner, and one of the lads just said, 'what's going on here'," he laughs.
"I looked up and saw all the people there including many I have known and worked with for a very long time.
"It was totally unexpected but also really nice and something that I very much appreciated."
In terms of the many players he has recommended to the Women & Girls section, many are still with the club today, and, as a result, Andy's impact is sure to linger on.
"I'm not too sure what we will do without him, but the Women's programme wouldn't be where it is today without him," Laura concludes.
"Thank you AB – you will be missed!"