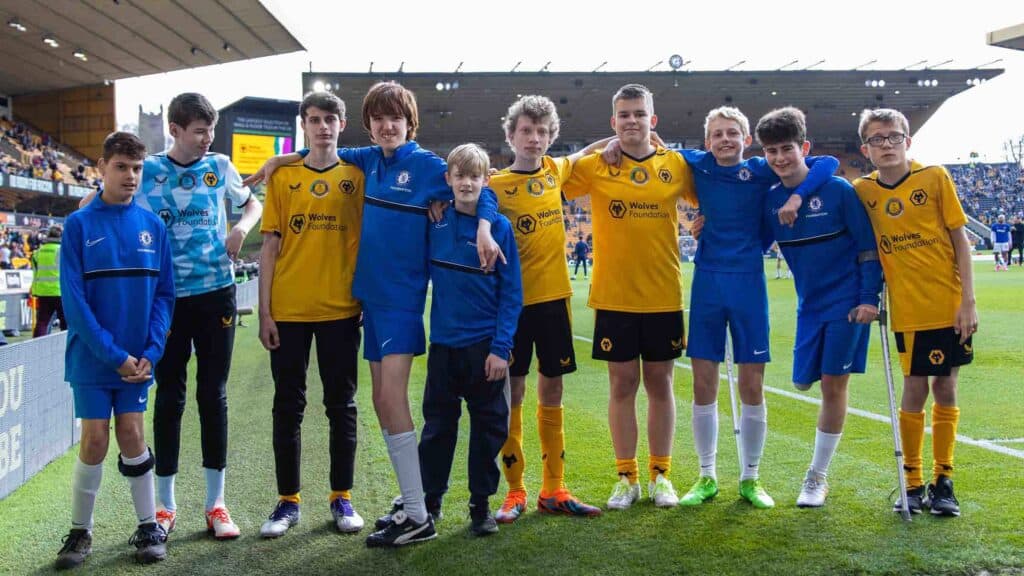 As eagerly acclaimed as was the recent victory against Chelsea at Molineux, as welcome as it proved to Wolves' position in the Premier League table, it wasn't the only thing fans were talking about as they left the stadium or over that weekend.
Once again, just as in previous years, the half time entertainment left a long and lasting impression.
And a very powerful one as well.
For the fourth time, Wolves Disability FC were able to showcase their talents in front of thousands of fans, on this occasion with the under-16s taking on their counterparts from Chelsea.
For Matheus Nunes – whose sensational effort secured the first team all three points – read young Cameron, who made it a double of Wolves' wins for the day with a crucial goal, late in the game, to clinch a 2-1 victory for the under-16s.
In truth, the result didn't matter. The experience, the reaction, that's what it was all about.
And the message, one which is of such value and importance to all at Wolves Foundation, that football is for everyone.
"Once again we've had some really positive feedback from everyone involved whether that's players, parents or staff," reflects Gavin Jones, inclusion lead with Wolves Foundation and coach of the adult disability team.
"For many it was the highlight of the day, it was brilliant, and the lads were absolutely buzzing.
"Just looking at the pictures and the footage, you can see what it meant to everyone and what always makes such a difference is how much the fans get involved.
"Supporters from all four stands were making so much noise and rivalries were put to one side – the Chelsea fans were great fun as well in chanting 'We've scored a goal' when they equalised.
"It is difficult to put into words what that sort of support and experience means to the lads – it's a once-in-a-lifetime opportunity."
It is also difficult to believe the progress that has been made within the Wolves Disability set-up since their first ever fixture – when known as Sporting Chances – in a friendly against Kewford Eagles ten years ago this June.
When initially launched around a year earlier, there were only four players regularly attending training sessions. There are now 80 registered players across three teams at adult level, three at under-16 and two at under-12.
With weekly training and a full league and cup schedule, including fixtures in the Staffordshire Ability Counts League played at the home of English football at St George's Park, the disability programme is planned and delivered with a great level of detail.
Jones heads up the coaching of the adults, Mark Bromley the under-16s, and Louis Guttridge the under-12.
For Bromley in particular, his journey has been an inspiration, as he himself turned out in that very first fixture almost a decade ago.
"I actually scored a hat trick," Bromley recalls.
"The first and last," Jones interjects with a laugh.
From that game, lifelong Wolves fan Bromley, who attended Westcroft School, was tied into the Foundation to the degree that, guided expertly by Jones, he became a volunteer, then a casual coach, and now, for the last three years and counting, a full time member of staff as a cohesion & inclusion coach.
"I was given a leaflet by my PE teacher at school about the training sessions, because while I loved football, there was nothing out there for me to join in terms of a team," Bromley recalls.
"After a while we had that friendly, then we started playing competitively, and at the end of the first season finished second in the league and won the cup, beating West Bromwich Albion in the final.
"Now, ten years on, I am still playing for the adults' team, and also coaching the Under-16s after becoming a full time member of staff.
"There are so many opportunities available for the players in the disability teams.
"They can play at St George's Park, on the pitch at Molineux and get involved in all sorts of different tournaments.
"I feel very fortunate to have been able to do what I have and, for me now, it's about giving as much help and experience as I can to the players coming through.
"I remember what it was like for me and I found moving up to the adult team tough, so it's nice to try and provide the help and support to the players who are on the same journey that I have been through."
As well as Wolves Disability FC, the Sporting Chances programme is still operational with Foundation staff working in local schools.
This offers players of all ages and abilities the chance to enjoy football, and for those who want to take that interest further, and show their talent and promise, there is a pathway in place to join a hub and then, potentially, the respective disability squads.
Wolves Disability FC is also just one strand of the Foundation's overall inclusion and cohesion programme, a programme dedicated to ensuring there are projects in place for as many people as possible from the local community.
"It's hard to put into words exactly what our disability offer has achieved and also what it means to the people we engage with," says inclusion & cohesion manager Luke Shearing.
"Whether it is our official Wolves Disability teams, our work in SEN (Special Educational Needs) specific schools or our ongoing commitment to inclusion within the Foundation, I always feel an overwhelming sense of pride.
"It is particularly pleasing for others to feed this pride back to us as well we regularly gain comments on social media for our work in this area.
"We have an ongoing commitment to continuing to progress our offer and I am looking forward to seeing what we can achieve."
Meanwhile, alongside those overall Foundation aims and ambitions, memories of the half time Disability FC fixtures will continue to linger well into the future.
'So uplifting,' one fan wrote on social media. 'Absolutely inspiring,' added another.
And: 'I loved how much the crowd got behind these legends.'
For the players themselves – those legends – it will have been an experience which can never be completely quantified.
"Cameron, who got the winner, he loves the Wolves, and he's scored a winning goal attacking the South Bank," Jones concludes.
"Talk about living your dream…"