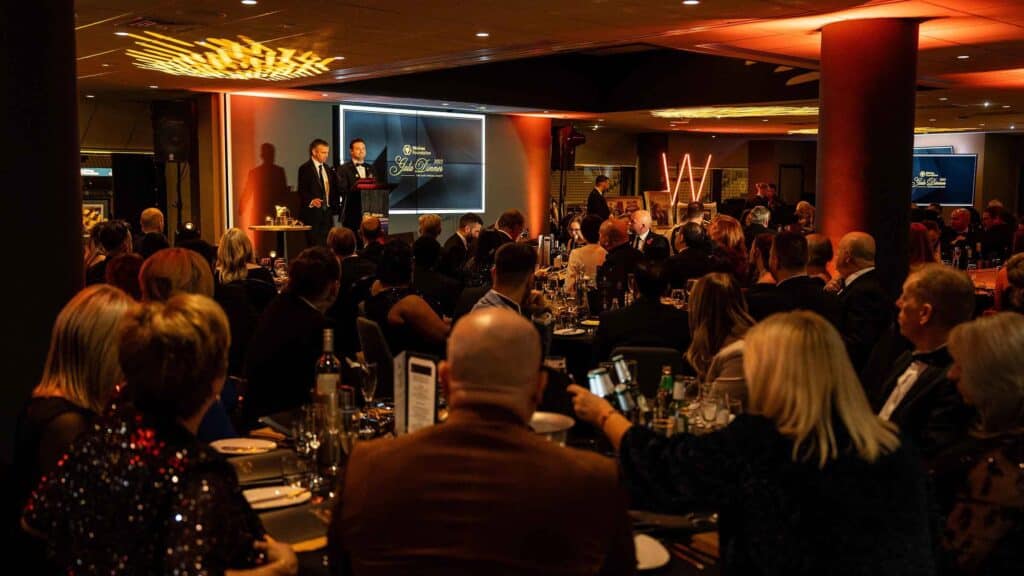 Wolves Foundation staged a hugely successful first ever gala dinner at Molineux including the presentation of awards to inspirational participants and supporters of the club's official charity.
Over 200 people attended the inaugural event in the Sir Jack Hayward Suite with hosts Johnny Phillips and Mark Rhodes – both Foundation ambassadors – taking guests through a programme of awards and fundraising activities to raise awareness of the charity's extensive work across the city.
Other Foundation ambassadors Anna Price and Mitch Lane were also present, along with Wolves men's first-team captain Maximilian Kilman, who had been named as a new ambassador earlier in the day.
Many players and staff from the men's and women's senior set-ups were also in attendance, with Kilman joined by teammates Pedro Neto and Matheus Cunha, and Wolves Women manager Dan McNamara and players Price, Ellie Wilson and Anna Morphet.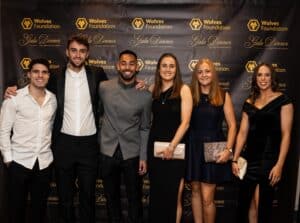 Wolves' executive chairman Jeff Shi attended to support the event along with directors Christy Gu, John Bowater and John Gough, and sporting director Matt Hobbs. Former Wolves manager Graham Turner was also a guest of one of the tables, many of which were made up of Pack Patrons, who make an annual donation to support the work of the Foundation.
Representatives from the Foundation's key funders from the Premier League and City of Wolverhampton Council were also present at an event which highlighted the work of the Foundation in delivering over 45 unique projects and over 800,000 hours of contact time in the community over the last calendar year.
"We were thrilled to be joined by so many guests at Molineux for our first ever Wolves Foundation gala dinner, which proved a fantastic success," said head of Wolves Foundation Will Clowes.
"It was really important to show to everyone present what a substantial reach the Foundation enjoys in delivering to people of all ages and abilities across our communities.
"As Wolves' official charity, having so many different people in the room from across the club including staff and players from the men's and women's teams and senior management, showed just how much of a team effort is involved in the Foundation's work.
"We were also delighted to be able to show so many of our key funders and pack patrons the impact that their support has on the Foundation – is it only thanks to that support that we are able to deliver the range of projects that we do.
"Congratulations to all the award winners among whom there were some truly inspirational stories, and we look forward to the gala dinner becoming a key part of the Foundation calendar."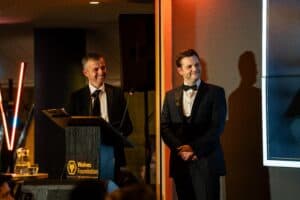 The Foundation would also like to thank event sponsor Stone's Throw Media, who produced some fantastic videos to celebrate the stories of three of the inspirational winners.
The full list of award winners was as follows:
Ian Millard Award For Outstanding Educational Achievement (in memory of former trustee and City of Wolverhampton College principal) – Terell Bennett 
Terell, a student at City of Wolverhampton College, was selected for his outstanding educational progress and the steps he is taking into employment including volunteering his time as a sports leader.
 Young Achiever Award – Taye
Taye is a participant on the Foundation's Premier League Kicks project which helps give young people at risk of going down the wrong path a focus and motivation. He has led on social action projects to help the community and is a member of the ball crew on a first team men's matchday.
Community Contribution Award – African Caribbean Community Initiative
The ACCI aim to improve the mental health of African Caribbean people in the community but also support everyone from Wolverhampton. Have worked with the Foundation and the Council on the Good Night Project, which aims to reduce bed poverty and ensure everyone in the city has access to a good night's sleep.
Community Champion Award – Moog
Moog, a major aerospace firm with a substantial site ten minutes from Molineux in Coven, were among the first Foundation patrons several years ago. They have supported the Foundation ever since and held a charity football match on the pitch during close season, raising over £2000.
Special Recognition Award – Luke Hitchins (Levy UK, Head Chef Wolves)
Luke was leading the catering operation on the night, before being surprised and grabbed from the kitchen! He has been a huge supporter of the Foundation alongside his day job, working particularly on the Head 4 Health project providing cooking classes for participants and working with them on their new allotment, which will eventually lead to food being prepared for use in matchdays at Molineux.
Leadership Award – Tayla Page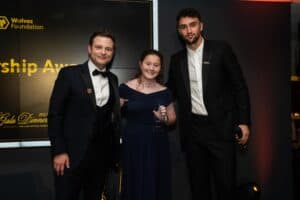 Tayla spent many years in severe pain before she was finally diagnosed with CPRS (Complex Regional Pain Syndrome), a form of chronic pain affecting an arm or leg which is referred to as the 'suicide disease' due to the mental anguish experienced by the sufferers. Since having her leg amputated four years ago, she has thrown herself into her ambition to become a coach, volunteering with Wolves Foundation, as well as acting as a mentor to two younger amputees and coaching an Under-8s team.
Outstanding Achievement Award – John Martin
John, who had twice left home in his car to attempt suicide, first attended Head 4 Health sessions in early 2020, and they have gone on to change his life. He now goes above and beyond in supporting other people within the group, providing advice and guidance to other participants, as well as practical help in areas such as completing important documents or support with education.
Spirit of Wolves Award – Manny Singh Kang
A passionate and influential fundraiser who is extremely active in the Wolves community. He has donated thousands to a wide range of charities, including Wolves Foundation. From selling samosas on a matchday, to taking on physical challenges and trekking hundreds of miles, Manny has the true spirit of Wolves.