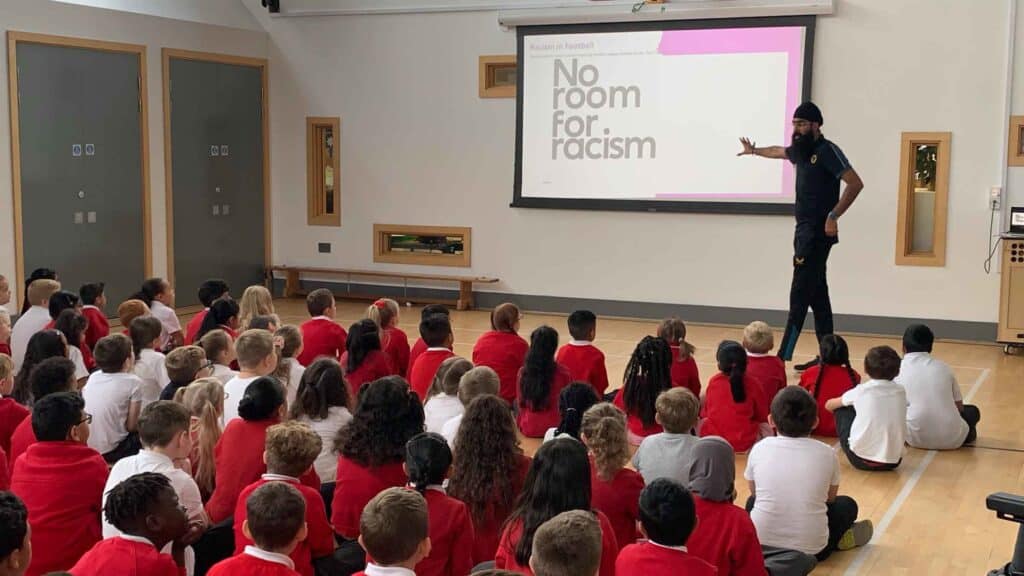 This afternoon's big Midlands derby is also Wolves' designated 'No Room for Racism' fixture, supporting the Premier League campaign to tackle discrimination and promote equality, diversity and inclusion across all areas of the game.
Those are ambitions which Wolves Foundation aim to deliver all the year around, but the build-up to the fixture and the days which follow offer the perfect opportunity to highlight the issue and provide positive messaging.
October is also Black History Month, with plans in place to recognise and celebrate the invaluable contributions of black people to society.
Over recent days, Wolves Foundation schools officers led an inclusion workshop at Field View Primary School in Bilston, before heading to Stowlawn Primary School to deliver an assembly to pupils.
Across the activities, the young people were shown examples of discrimination, encouraged on how to address it and who to report it to, as well as viewing a video commissioned and produced by the Premier League.
Later this month there will also be a special tournament held at the Aldersley Arena as part of Premier League Kicks to mark Black History Month, as well as a project called Trailblazers, featuring a look back at the first black footballers to play for Wolves, including informative workshops with school groups to shine a light on those players' vital contributions.
''It is vitally important that we highlight the importance of inclusivity in all that we strive to achieve," says Jonathan Warburton, education and skills manager with Wolves Foundation and also equality, diversity and inclusion lead.
"Through our project delivery, we aim to raise awareness of inclusion right across the city in order to provide as many opportunities as possible for our local communities."
The No Room for Racism campaign involves clubs, the fans, the FA, EFL, PFA, Kick it Out and the Police, and sees different activities taking place around Premier League matchdays over the next two weekends.
Key themes include highlighting the issue of discriminatory abuse and the action the League and clubs are taking to combat it as well as the ongoing importance of allyship and celebrating diversity on and off the pitch.