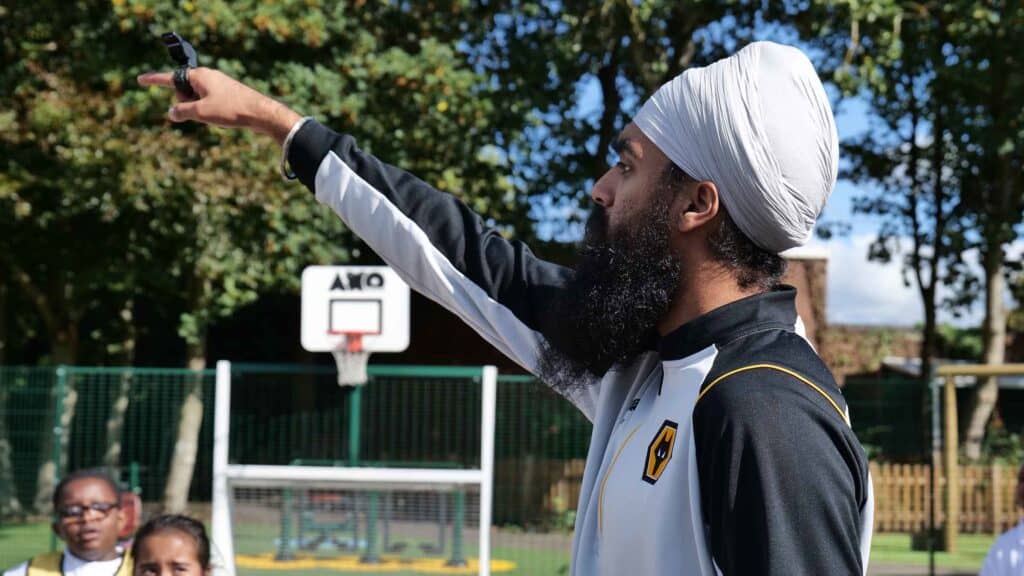 Several members of Wolves Foundation staff who have progressed through to work for the club's official charity whilst studying for a degree, have been celebrating their graduations.
And that offers a timely reminder for prospective students thinking about options for the next academic year that the Foundation's degree, run in partnership with the EFL Trust and the University of South Wales, offers potential opportunities to land permanent employment even during their studies.
The three-year BSC Honours course in Football Coaching, Development and Administration covers a range of modules including football/sports coaching, PE teaching, youth working and sports development.
Based at Molineux, it also offers opportunities to support a range of Foundation projects to gain real work experience, with all students receiving high quality mentoring and personal development plans to support them into a full-time career.
Among those to have recently graduated at the University of South Wales is Jeevan Kang, who now has a permanent role as a schools officer within the Foundation.
This is a varied role which features delivering the Premier League's Primary Stars programme to primary schools across the region, including PE lessons, PSHE (personal, social, health and economic education), intervention-based work and lunch and after school clubs.
For Jeev, it's the next step on a journey which began as a young Wolves fan, around a decade ago.
"I probably got into football about nine or ten years ago because my Dad has been a Wolves fan from a young age, so I was brought up in that environment," he says.
"But then it was only around three or four years ago when I started doing the degree course that I really got to know more about the opportunities at the Foundation.
"Before studying on the degree, I was doing an apprenticeship at a local secondary school, and, when I first heard about the degree, and discovered it was based at Wolves, it was something I was really interested in.
"I had a chat with Brad (senior education officer, Brad Moore) who gave me more details and, given he also completed the course an went on to work for the Foundation, he was someone who knew all about it."
Whilst studying for the degree, there are also those opportunities for work placements which give students opportunities to put their theory into practice with real-life experience.
"My confidence has definitely improved since starting the degree," Jeev adds.
"When I am out on session and delivering in schools, I think it is really important that I have confidence in myself because, if not, that transmits to the group I am coaching or teaching.
"That confidence has come from the course, the experience from the placement hours, and also from my personal values, which have developed as a result.
"Developing my personal values was something else I was really keen to develop during the course which I have also been really pleased with."
Wolves Foundation are committing to championing equality, diversity and inclusion across all of its projects and activities, and one area where this has been hugely welcomed by Jeev is in how his work has so many similarities with his faith as a Sikh.
"Wolves is well known as a very open and friendly club to the local community, and you can see that from the work that is done by the Foundation," he adds.
"And a lot of that links very closely with my faith, with a lot of the work of the Foundation linking into the values of Sikhism.
"We have to make sure that everything we do in everyday life goes back to the messages and teachings we are given in our faith, and I think more people are now coming to understand and accept different beliefs which is really important."
For students who are currently considering options as they receive exam results this month, if they have an interest in football and coaching, there are still a very small number of places available on the degree course to start in September.
"The degree course is continuing to prove extremely popular as it offers a fantastic opportunity to gain an industry recognised football coaching degree whilst being affiliated to a professional and Premier League football club," says Brad.
"It achieves that via a programme of blended learning of lectures and work placements with students based at Molineux, along with a minimum of spending five days a year at the state-of-the-art coaching and performance development centre at the University of South Wales.
"The qualification has proved really successful in helping people go on and land permanent roles within the Foundation – myself included – or in other areas within the industry such as coaching and teaching.
"So, congratulations to all the students who have graduated this summer, five of whom are already involved in roles at the Foundation, and we look forward to helping new and returning students with their degree journeys over the coming years."
To express interest in the Foundation's degree course please complete the attached form, or for more information email bradleymoore@wolves.co.uk